Poster Design by Melanie Fabrizius -- Graphic Designer Billings Gazette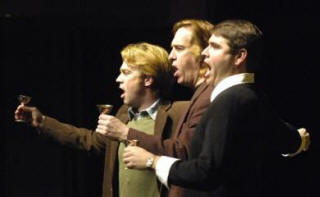 Photo: LARRY MAYER/Gazette Staff
Performers in the current Rimrock Opera "Cosi" sing for students in Amy Logan's chorus class at Skyview High School Wednesday afternoon. The opera singers are, from left, Curt Olds, Dennis Rupp and Adam Flowers. Performances are March 23 and 24 at the Alberta Bair Theater.
Story:
Laughter, music lift 'Cosi fan tutte'
We don't usually associate opera with belly laughs, but that unique dichotomy of silliness and beautiful music makes Rimrock Opera Company's production of "Cosi fan tutte" soar.
Billings soprano Lisa Lombardy, playing the role of Fiordiligi, is a marvel. The challenging vocal range of the part, paired with the need to ham it up as the target of a madcap prank, could have soured the performance of a lesser artist. But for Lombardy, who most recently played Musetta in a Helena production of "La boheme," it was a career highlight.
For more of this story, click here
Story:
Stage digest
Friday, March 23, 2007 Mozart opera 'Cosi fan tutte' opens tonight at Alberta Bair TheaterThe Rimrock Opera Company will present the Italian opera "Cosi fan tutte" tonight at 7:30 p.m. and Sunday at 2 p.m. at the Alberta Bair Theater. Tickets are $46, $36 and $21 for adults and $11 and $18.50 for students. They are available at the ABT ticket office or at www.albertabairtheater.org.
The opera, written by Wolfgang Amadeus Mozart, will be sung in Italian with English super titles. It features baritone Curt Olds, who grew up in Butte; soprano Diedra Walker, from Lander, Wyo., soprano Lisa Lombardy of Billings; bass Dennis Rupp; tenor Adam Flowers; and soprano Amy Logan, who teaches choir at Skyview High.
For more of this story, click here
Story:
Homegrown talents thrive in Rimrock Opera Company Local performers joining international vocalists has become a mainstay of Rimrock Opera stagings
In the second act of the Rimrock Opera Company's production of "Cosi fan tutte," a Butte native and a Lander, Wyo., veterinarian's assistant, croon the loveliest of Mozart duets.
It's a treat for opera fans because it's one of the sweetest moments in the opera and these two fine vocalists nailed every note in a rehearsal earlier this week. But what makes the scene even more amazing is something we've all come to expect from the ROC - its knack for showcasing international vocalists as well as local performers. And, in some instances, they are one in the same.
For more of this story, click here

The Cast for Così fan tutte (Women are Fickle)

Conductor (Directs the music of the opera)
Timm Rolek, Artistic Director of Sacramento Opera, CA

Director/Producer (Directs the action on the stage)
Douglas Nagel of Billings, MT

Fiordiligi (Soprano), Ladies of Ferrara and sisters living in Napoli
Lisa Lombardy of Billings, MT

Dorabella (Soprano),
Diedra Walker of Lander, WY

Guglielmo (Baritone), Officer, in love with Fiordiligi
Curt Olds, formerly of Montana, living in New York City

Ferrando (Tenor), Officer, in love with Dorabella
Adam Flowers of San Francisco, CA

Despina (Soprano), Chambermaid of the ladies
Amy Logan of Billings, MT

Don Alfonso (Bass), an old Philosopher
Dennis Rupp of Burbank, CA