Die Fledermaus Johann Strauss Synopsis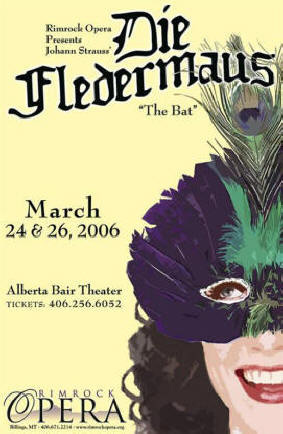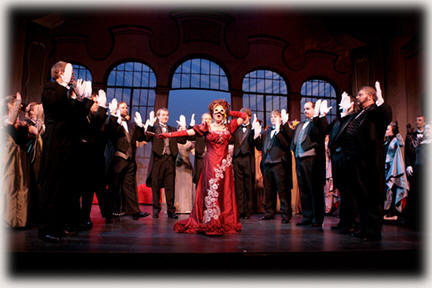 Poster Design by Melanie Fabrizius - Graphic Designer Billings Gazette

photographs compliments of Keith Woods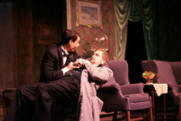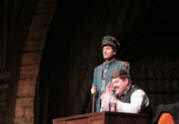 Casting

Stage Director-Douglas Nagel
Conductor-Valery Ryvkin
Rosalinda von Eisenstein-Susan Gundunas, soprano
Gabriel von Eisenstein-Daniel Ebbers, baritone
Prince Orlovsky-Victoria Hart, contralto
Adele-Alissa Rose, soprano
Alfred-Gennard Lombardozzi, tenor
Dr. Falke-Kelly Markgraf, baritone
Frank-Bret Weston, baritone
Ida-Ashley Miller, soprano
Dr. Blind-Chris Johnson, baritone
Frosch-TBA, speaking/acting role
Stage Manager-Amy Logan
Chorus Masters-Kevin Schweigert & Amy Logan
Rehearsal Pianist-Sandi Rabas


Rimrock Opera presents Strauss' 'Die Fledermaus' at ABT
JACI WEBB Of The Gazette Staff | Posted: Thursday, March 16, 2006 11:00 pm
When Rimrock Opera founder Doug Nagel set out to produce "Die Fledermaus," he was looking for a lighter touch.

"We had three tragedies in a row; every leading lady in the last three croaked and I thought 'It's time for a lighter opera,' " Nagel said. "I picked the English translation by Marcie Stapp because the dialogue is so funny."

Nagel, who serves as stage director for the opera, pulled in some Billings natives to perform in the opera, including tenor Gennard Lombardozzi, a West High graduate, in the role of Alfred and soprano Alissa Rose, a Senior High graduate, in the role of Adele. Nagel also asked longtime music teacher and opera performer Edward Harris to write a verse for one of the songs.

"We regionalized it with Edward Harris's sparkling verse that talks about Montana's wide-open spaces; it's very funny," Nagel said.

The other strength of this German opera, which will be sung in English, is the familiar music by Johann Strauss.

"Everybody has heard of the 'Blue Danube Waltz;' it's such beautiful music," Nagel said.

Valery Ryvkin conducts and Susan Wadsworth is orchestra manager. Ryvkin is artistic director of the Santa Barbara Opera and Greensboro Opera Company and has conducted previous operas for the Rimrock Opera Company.

Soprano Susan Gundunas plays Rosalinda von Eisenstein and tenor Daniel Ebbers plays her husband, Gabriel von Eisenstein. Contralto Victoria Hart, a specialist in character and comedic roles, plays Prince Orlovsky and baritone Kelly Markgraf plays Dr. Falke. Also performing are Bret Weston, Nick L. Johnson and Ashley Miller. Venture Theatre's Mace Archer has a walk-on comic role as Frosch, the jailer, and Chris Montague of Montague's Jewelers will play Ivan.

"Die Fledermaus," which translates to "flying mouse," recreates colorful scenes of late 19th century Vienna. Strauss became the most popular of all waltz composers and was best known for "Die Fledermaus." Even his harshest critics were impressed with this spirited opera that helped ease the tension of the times. And in 1899 when Strauss died of pneumonia at the age of 74, one supporter wrote, "Johann's demise signifies the end of happy times in Vienna."
The opera opens with Gabriel von Eisenstein being sentenced to prison for eight days for using abusive language to a policeman. As he and his wife prepare him for prison, his good friend Dr. Falke arrives to talk him into attending a costume party. Von Eisenstein decides to postpone his surrender to the authorities until the next day so that he can enjoy a night of glorious revelry, wine, women and song.

Dr. Falke spends the rest of the opera trying to get even with von Eisenstein for abandoning him in a park after the costume party. Falke wakes up the next morning still in his bat costume and the whole city ends up calling him "Dr. Bat."



DAVID GRUBBS/Gazette Staff
Susan Gundunas, left, in the role of Rosalinde, and Alissa Rose, as Adele, will perform in Rimrock Opera Company's production of "Die Fledermaus." Gazette photo by David Grubbs.