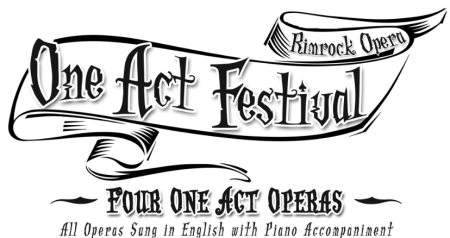 Festival Schedule:
Sister Angelica &The Impresairo
Wednesday, July 15 at 7:30 PM at Northwest College, Powell, Wyoming

Riders to the Sea & Gianni Schicchi
Thursday, July 16 at 7:30 PM at the WYO Theater, Sheridan, Wyoming

Sister Angelica &The Impresario
Saturday, July 18 at 7:30 PM at the Babcock Theater, Billings

Riders to the Sea &Gianni Schicchi
Sunday, July 19 at 2:00 PM at the Yellowstone Country Club, Billings


Douglas Nagel, Producer & Stage Director
Dennis Rupp, Guest Stage Director
Sandi Rabas, Music Director & Pianist

Giacomo Puccini
Gianni Schicchi
Puccini's only comic opera, Gianni Schicchi (Johnny Skee-kee) is a satire surrounding the death of a rich uncle who leaves his wealth to charity. The relatives engage clever con-man Schicchi to out-maneuver the will and make them rich, while his daughter pleads to marry into the money-grubbing family. Schicchi gets the son-in-law, and the money. One of opera's most beloved arias, Oh, my beloved Daddy, is pivotal to the plot. Casting and Synopsis

Ralph Vaughan Williams
Riders to the Sea
Maurya has lost her husband and five of her sons to the sea off the rugged island of Aran on the west coast of Ireland around the turn of the 20th century. She begs her last son not to undertake a treacherous crossing and foresees his death. The opera closes with Maurya's lament: They are all gone now, and there isn't anything more the sea can do to me. Casting and Synopsis

Wolfgang Amadeus Mozart
The Impresario
The story focuses on a small-time opera company with big-time problems, spurred on by the rivalry between the resident diva and an up-and-coming ingénue. The worn-out opera manager, the Impresario, desires to retreat to the peace and quiet of farm life. He is detained by a wealthy businessman who introduces him to an upstart diva and the battle begins. Casting and Synopsis

Giacomo Puccini
Sister Angelica
Puccini takes you through a heart wrenching tale of piety, passion, and penance. Sister Angelica is a Florentine noblewoman forced to enter a convent by her family at the birth of her love-child. After seven years in penance, she greets her aunt, visiting on a business matter. The princess coldly delivers devastating news: the child has died. Seized with agony and desire to be with her son, Angelica ends her life. Her miraculous salvation concludes the opera. Casting and Synopsis


Rimrock Opera hits road for one-act fest
Posted: Friday, June 5, 2009 12:00 am
Rimrock Opera presents four performances throughout the region as part of its One Act Festival this summer. Each performance will feature two of four one-act operas: Puccini's "Sister Angelica" (tragedy) and "Gianni Schicchi" (comedy), Vaughan Williams' "Riders to the Sea" (tragedy), and Mozart's "The Impresario" (comedy).

The operas, directed by Rimrock Opera's general director, Doug Nagel, and longtime Rimrock Opera performer Dennis Rupp, will feature 34 singers, most of whom are local. All operas are sung in English, with piano accompaniment by Sandi Rabas.
The festival begins at 7:30 p.m. Wednesday, July 15, at the Northwest College Music Building in Powell, Wyo. They remain in Wyoming for a performance at 7:30 p.m. Thursday, July 16, at the WYO Theater in Sheridan as a benefit for the Sheridan Arts Council.

Rimrock Opera then takes the festival to the Babcock Theatre, Billings' original opera house, at 7:30 p.m. Saturday, July 18. Admission to the Babcock show is $15. The final performance will be at 2 p.m. Sunday, July 19, at the Yellowstone Country Club. The cost for the show is $25, which includes a reception afterwards.

For more information, including synopses and complete casting, visit www.rimrockopera.org or call 671-2214.
<![if !supportLineBreakNewLine]>
<![endif]>
Weekly Webb: Opera voices to soar again at Babcock
Jaci Webb Of The Gazette Staff | Posted: Friday, July 17, 2009 12:00 am
It has been several decades since opera was performed at The Babcock Theatre and more than 10 years since the downtown theater was used as a regular performing arts venue. That's all about to change.

Tonight, Spring Creek will perform its rollicking bluegrass music, and Saturday night the Rimrock Opera Company is bringing opera back to the Babcock with its One-Act Festival. The place is booked for several shows for fall and winter, and hopes are high that more are coming.

Kim Olsen, of O2 Architects and a partner in Babcock LLC, is downright giddy about the upcoming shows at the Babcock, which is undergoing a $3 million renovation before it is turned back to the city of Billings in 2016. The schedule includes a performance Aug. 19 by the jam band/bluegrass group Railroad Earth and a Sept. 11 Jazz for Peace event.

"I am just so pleased that people want to use the building,'' Olsen said. "We don't have everything done, but people are willing to take a chance with us and put on performances and help us get this thing rolling. What we're finding out is people won't book it if it doesn't have a history, and it's been abandoned for a while."

If it weren't for the Thursday night boxing matches that have been going on at the Babcock for several years, the building would have deteriorated even further. The late Ruth Lipsker Moss, whose family owned the Babcock since 1927, said in 2007 that the boxers helped her keep the doors open by paying the heat bill.

But now, it's the opera folks who will fill the theater's huge stage with comedy and song. It's the kind of entertainment that A.L. Babcock built the theater for in 1907. Olsen said the one-time opera house helped define Billings as an up-and-coming city.

"That was what made a town in this Western expansion. It made it go from a train stop to a real place," Olsen said.

Ian Elliot, who ran the Babcock during the 1990s, said the acoustics there are second only to Cisel Hall at Montana State University Billings.
"It's really a great space for shows," Elliot said.
Douglas Nagel, general director of the Rimrock Opera Company, was excited to bring opera back to the Babcock.

"This is really a Billings opera festival, so why not stage it at one of the first opera houses?" he said.
Nagel chose mostly local performers to showcase in the four operas that are part of the festival. Saturday night's event will include "Sister Angelica" and "The Impresario." A show on Sunday at 2 p.m. at Yellowstone Country Club will include performances of the operas "Riders to the Sea" and "Gianni Schicchi."

"The thing that I think is really empowering is that 25 of the 30 singers are local, and 20 of them are making their solo debut," Nagel said about the festival. "I know they've all grown and learned a lot. A lot of them were inspired by being in the chorus of 'Carmen' and now they're getting a solo opportunity."

Among the soloists debuting in the festival is Jacquelyn Weitz, who spent 22 of her 25 years studying piano and in the past six years branched out to vocal performance. She had so much fun singing in the chorus of "Carmen" this spring with the ROC that Weitz auditioned for and landed a soprano role in "The Impresario."

"Everyone is just so supportive," Weitz said after rehearsal Monday night.

Nagel is playing the title role in "The Impresario," a fun twist because he runs the opera company in real life. Director Dennis Rupp said that adds to the humor in the 30-minute opera. Rupp is also directing "Sister Angelica," a dramatic Puccini opera.

"The hard part about the Puccini is I'm such a sap and I couldn't get through the story without crying," Rupp said.

Nagel said the One-Act Festival will give opera newcomers a chance to taste both a tragedy and a comedy, and to wear their flip-flops to the opera.
"This is just a fun, casual experience. Wear whatever you want and just come experience opera at one of Billings' first opera houses," Nagel said.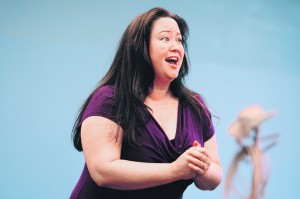 CASEY RIFFE/Gazette Staff
Michelle Kei Ishuu, left, and Kristin Van Luchene rehearse Wednesday for this weekend's Rimrock Opera One-Act Festival at the Babcock Theatre.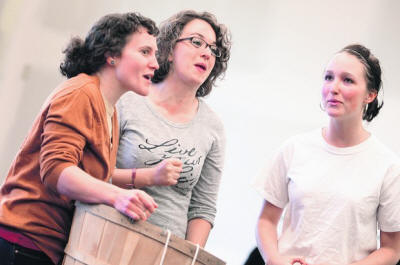 CASEY RIFFE/Gazette Staff
From left, Amanda Leonard, Kimiko Wittkopp and Christina Pezzarossi will be among the singers in this weekend's Rimrock Opera performances.
Many people make 1-act operas great
Posted: Monday, August 3, 2009 8:05 pm
In July, Rimrock Opera Company produced four one-act operas for the One Act Festival. Financial support from many individual and corporate sponsors allowed Rimrock Opera to bring this show to Billings, Powell, Wyo., and Sheridan, Wyo. The Wyoming performances were at the Wyo Theater and Northwest College.

In Billings, the festival was staged at the Babcock Theatre and Yellowstone Country Club. For the first time in decades, opera was seen in the old "opera house" of Billings, the Babcock Theatre. Don and Kim Olsen's renovations for the old theater are progressing nicely and more musical events are being scheduled there.

Rimrock Opera wishes to thank the volunteers, singers, directors and everyone else who worked to make the One Act Festival a success. Tutti bravi to all.

Steve and Cindy Butler
Rimrock Opera Board of Directors
<![if !supportLineBreakNewLine]>
<![endif]>
Sheridan enjoyed having Rimrock Opera perform
Posted: Wednesday, July 22, 2009 12:00 am
I was delighted that Billings' Rimrock Opera continued its excellent outreach program and brought its One-Act Opera Festival to Sheridan on July 16. Their performance of the tragic "Riders to the Sea" and comedic "Gianni Schicchi" was enjoyed by many Sheridanites at the WYO Theater in historic downtown Sheridan.

It's a real treat to have a cultural event such as this to mix with the country and jazz music in our rural town. The audience was a mix of long-time opera fans and folks new to this wonderful form of entertainment. A big applause to Rimrock Opera director Doug Nagel, all of the cast and sponsors who made this wonderful display of classical arts in our town possible.
Thanks!
Rebecca Colnar Mott
Sheridan, Wyo.
<![if !supportLineBreakNewLine]>
<![endif]>
Rimrock Opera's One Act Festival July 2009
Rimrock Opera's One Act Festival July 2009
Video

Festival Personnel:
Music Direction by Sandi Rabas
Stage Direction by Dennis Rupp & Doug Nagel
Accompanied by Sandi Rabas

Sopranos
Kimiko Bennion, Janie Rife, Christa Salomon, Jacqueline Marie Weitz, Carly McKenzie, Brianne Roney, Amanda Leonard, Ashley Miller, Michelle Kei Ishuu, Christina Pezzarossi, Erin Mikelle Walker, Sara Ricord, Judy Kniss, Erin Small

Mezzo-sopranos Jess Shultis, Mary Ryan, Michelle Berger, Kristin Van Luchene, Danielle Dodge

Tenors
Jacob Wittkopp, Scott Wichael, Nathan Raschkow, Philip Johnson

Baritones & bass-baritones Quentin Staton, Robert Aaron Taylor, Chris Sheppard, Aaron Pagniano

Basses
Daren Small, Doug Nagel, Dennis Rupp