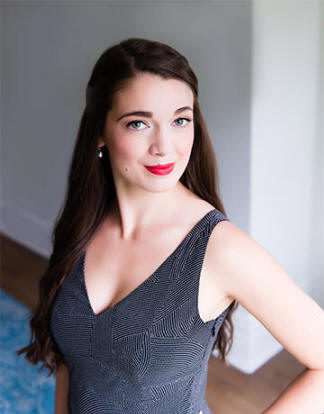 Kayla Marie Mudgett

Soprano Kayla Marie Mudgett is based out of her home state of Minnesota. This May, she is covering the title role of Blodwen and singing in the chorus for Rimrock Opera and Nova Center for the Performing Arts production of Blodwen..

In 2016, Ms. Mudgett graduated from the University of Minnesota Duluth with a Bachelor of Music in Vocal Performance. She was seen on UMD stages in the roles of Adele (Die Fledermaus), Greta Fiorentino (Street Scene), and The Queen of the Night (The Magic Flute.) In addition, she was the soprano soloist for Purcell's Come Ye Sons of Art with the UMD Chamber Orchestra. On other Duluth stages, Ms. Mudgett performed the roles of Peron's Mistress (Evita), Hope Harcourt (Anything Goes), Kate McGowan (Titanic), and Phyllis (Iolanthe.)

Upon graduation, Ms. Mudgett accepted a graduate teaching assistant-ship at the University of Montana. She sang the roles of Lydia Larkspur (The Rivals) and Cleopatra (Julius Caesar) before completing her master's in the spring of 2018. This season, she is singing the role of Dr. Dulcamara for Lyric Opera of the North's Little Loon tour of The Elixir of Love and sang in the chorus for the Lake Area Music Festival's summer production of Die Zauberflöte.