masks Are Required during performances for audience members. Wearing a mask protects our actors and staff. Masks are for your safety and everyone around you as well. We look forward to seeing you!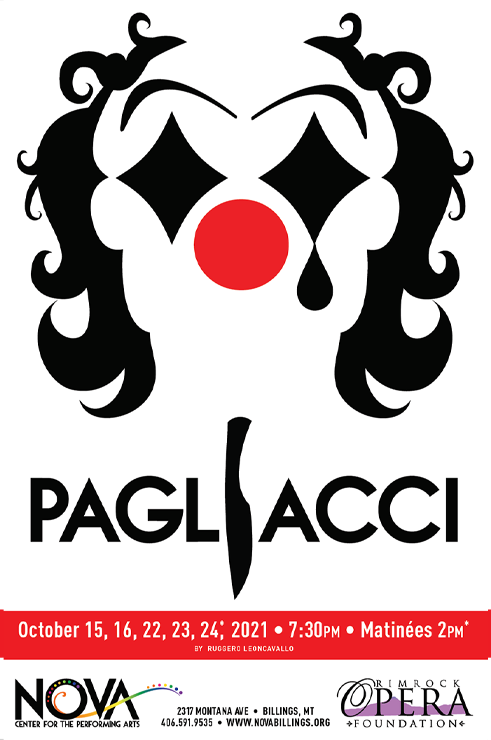 Poster Design by Melanie Fabrizius
Show dates: October 15, 16, 22, 23, 24, 2021

Ruggero Leoncavallo (1858-1919)
Pagliacci

The Clowns

Composed 1892
Libretto by the composer (in Italian)
Pagliacci will be sung in English with supertitles

Director - Michelle Berger
Stage manager - Karla Stricker
Accompanist - Sandi Rabas
Costumes - Glenda Brauneis
CAST
Canio - Conner Leavitt
Nedda - Mardi Byers
Tonio- Jan Michael Kliewer
Silvio - Scott Ballantine
Beppe- Janie Sutton
SYNOPSIS
Pagliacci is one of the most recognizable operas written. A boisterous romantic comedy, the story intertwines well-known melodies with a wildly entertaining parade of identities mistaken, ruses gone awry, tables turned, and no end of surprises.

Canio and Nedda are married, and the leads in the troupe along with Tonio and Beppe, however Nedda is secretly having an affair with Silvio.

Fearing Canio's anger, Nedda continues to hide the affair, and even goes as far to attempt to break it off with Silvio.

Silvio and Nedda's love is strong, however, and they plan to run away together. Tonio, also in love with Nedda, confesses his love for her, but she turns him away, shaming him.

In an act of revenge, Tonio tells Canio that Nedda is having an affair like he suspected.

During a performance, Canio confronts Nedda, and stabs her. Silvio attempts to save Nedda, running up on stage, but gets stabbed by Canio as well.

The audience, not realizing it was real, claps until Canio screams at them, "the comedy is ended."
Ruggero Leoncavallo's opera about fatal jealousies in a traveling troupe of actors was based on a real-life story: a case encountered by Leoncavallo's father, who was a police magistrate in Naples.