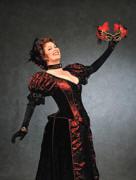 The Mission of the Rimrock Opera Foundation is
to enhance the cultural life of this region by supporting
high quality main stage opera productions and
to make opera available to everyone.
RIMROCK OPERA FOUNDATION OFFICERS




Lucinda Stearns Butler, President of Rimrock Opera Foundation and
Past President, NOVA Center for the Performing Arts

The Billings Chamber of Commerce/Convention and Visitors Bureau awarded the 2009 Roche Jaune Awards for Business Excellence for Adult Volunteer of the Year to Rimrock Opera Company President Lucinda Butler and Vice President Dr. Steven Butler. Dr. Steven Butler and Lucinda Butler have dedicated countless hours to the Rimrock Opera Company. They serve as president and vice president of the Rimrock Opera Board, and their efforts include finding sponsors to locating stage furniture. They also help expose thousands of school children to opera by coordinating school tours.

From the Billings Gazette, August 31, 2015. "20 Exceptional Women: Lucinda Butler looks to invigorate theater communities in Billings"


Shannon Powers Davis, Vice President
ACEd ESL/Language Arts Instructor ACEd Tech Department Chair


Darrah Plank, Secretary


Steven A. Butler, MD, Treasurer
President NOVA Center for the Performing Arts
Otolaryngologist Ear, Nose, Throat Surgeon at ENT Associates , Billings MT. Fellow, American College of Surgeons Member, American Academy of Facial Plastic and Reconstructive Surgery

At Large Members

Christopher Davis
Virginia Mermel PhD
Lloyd Mickelson
Douglas Nagel
Karen Postema, retired Speech-Language Pathologist

Webmaster
Dennis Kern

Rimrock Opera Foundation Executive Office
P. O. Box 114
Billings, MT 59103
Phone: 406.591.9535