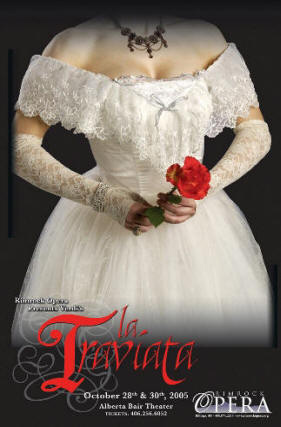 Giuseppe Verdi

La traviata

The woman led astray
October 28 and 30, 2005

Libretto by Francesco Maria Piave
Opera in three acts based on La Dame aux Camélias by Alexander Dumas
Premiere 6th March 1853, Teatro La Fenice, Venice, Italy
Sung in Italian with English supertitles projected above the stage

Poster Design by Melanie Fabrizius
Graphic Designer Billings Gazette
Cast


Violetta Valéry, Soprano, a courtesan Christina Major

Flora Bervoix, Mezzo-Soprano, her friend Brianne Roney

Annina, Soprano, Violetta's maid Sarah Hessler

Alfredo Gérmont, Tenor, Violetta's lover Joseph Muir

Giorgio Gérmont, Baritone, his father Jan Michael Kliewer

Gastone, Tenor, Viscount de Letorières, Kevin Schweigert

Baron Douphol, Baritone, Violetta's protector Dennis Rupp

Marquis d'Obigny, Bass, Flora's protector Scott Martinez

Dr. Grenvil, Bass, Violetta's Physician Bret Weston

Giuseppe, Tenor Jacob Troyer

Flora's Servant & the Messenger, Tenor Dan Caplinger

A commissioner, ladies and gentlemen, friends of Violetta and Flora, matadors, picadors and gypsies, servants of Violetta and Flora, and maskers



Conductor: Timm Rolek

Production & Stage Director: Douglas Nagel

Sets: Stivanello of New York

Costumes: Utah Opera & Symphony

Sets and costumes underwritten by a gift of Henrietta Johnstone

Stage Manager, Amy Logan
Lighting Designer: Alex Heyneman



Rimrock Opera Chorus: Amy Logan and Kevin Schweigert, Chorus Masters

Jessikay Bennion, Dan Caplinger, Kelly Deiling, Nancy Downing, Karen Evanson, Steven Green, Shirley Herman, Sarah Hessler, Penni Kelley, Jon Kohn, Scott Martinez, Alyson Miller, Ashley Miller, Karen Postema, Brianne Roney, Kirsten Rose, Bret Weston, Kevin Schweigert, Justine Summers, Jacob Troyer

Sandi Rabas, Rehearsal Pianist

Waiters: Marks Raschkow & Patrick Brown



Other Biographical Information

Timm Rolek, Conductor

Douglas Nagel, Director

Stage Manager: Amy Logan

Chorus Masters-Kevin Schweigert & Amy Logan

Rehearsal Pianist-Sandi Rabas


Quick Facts

The opera was first performed in Venice on March 6, 1853. The first audience laughed all the way through the last act. Verdi wrote "(it) was a fiasco; it is useless to ask why, it is a fiasco and that is that."

The first successful performance was a year later. Since then La Traviata has become one of the most performed and popular operas ever.

On May 25, 1858, three different opera companies performed it at the same time, in three different theaters in London--Her Majesty's, Covent Garden, and Drury Lane.

"La Traviata" means "the woman who has been led astray."

The opera is based on the play La Dame aux camelias (1852) by Alexander Dumas the younger, which he adapted from his autobiographical novel of the same name (1848).

The real-life original of Violetta Valery was Marie Duplessis, who died aged twenty-three. In Dumas's novel and play, she is called Marguerite Gautier.

Verdi wanted the opera in contemporary dress, but because this was considered too shocking it was originally set in the era of Louis XIV (1638-1715). The first 'modern' production (i.e. set in the 1850's) was not until 1906.

Verdi himself was not disturbed by sex outside marriage. He was with Guiseppina Strepponi for twelve years before he married her in 1859. She already had two children by another partner.

Tuberculosis (also called consumption) is still one of the world's most serious diseases even though an antibiotic (streptomycin) was developed in 1944. In England and Wales in 1988 there were 5164 cases, and 478 deaths.

Synopsis 1

Synopsis 2
'La Traviata:' Husband-wife team take leads in Rimrock Opera's latest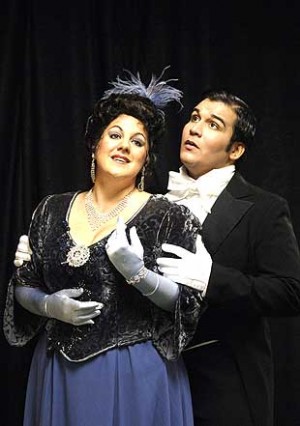 JAMES WOODCOCK/Gazette Staff
Christina Major and Joseph Muir in a scene from 'La Traviata.' JAMES WOODCOCK/Gazette Staff Joseph Muir, left, and Jan Michael Kliewer rehearse a scene from 'La Traviata.' Muir, a tenor from Southern California, will be performing the lead role of Alfredo opposite his wife, Texas native Christina Major, who portrays Parisian courtesan Violetta. JAMES WOODCOCK/Gazette Staff Maestro Timm Rolek, left, and Rimrock Opera Company artistic director Doug Nagel go over music for 'La Traviata.' Rolek, visiting from the Sacramento Opera, will conduct a 30-piece orchestra. JAMES WOODCOCK/Gazette Staff Kliewer and Major rehearse a scene from the opera, which opens next week.

JACI WEBB Of The Gazette Staff | Posted: Thursday, October 20, 2005 11:00 pm
A rare treat - a husband-and-wife opera team playing lovers - will bring the passion up a notch in the Rimrock Opera Company's season opener Giuseppe Verdi's "La Traviata" next week at the Alberta Bair Theater.

"La Traviata," which translates to "The Woman Led Astray," will be sung in Italian with English supertitles. Performances include a school show Wednesday morning and performances Friday, Oct. 28, and Sunday, Oct. 30.

Soprano Christina Major plays the Parisian courtesan Violetta and her husband, tenor Joseph Muir, plays her lover Alfredo who is determined to possess her at any risk. Major, a Texas native, is known for her versatile, lyric soprano style and has performed in 10 complete operas. Muir, originally from Southern California, has performed in nine operas and has been lauded for his lyrical tenderness.

They arrived in Billings last week for a 10-day rehearsal schedule, under the artistic direction of Douglas Nagel and musical direction of Timm Rolek of the Sacramento Opera. At rehearsal last Friday, the couple, who have been married five years, discussed the opera life and separating their off-stage romance with their on-stage performance.
"When we first got together we made an agreement to put our relationship first," Muir said. "She's Christina my wife before she's Christina the soprano. I'm the husband first, instead of the tenor."

Muir said he's often studying one opera while performing in another.
"You have to develop a good memory," he said.

Major said she likes to buy a CD of the full production and study the work with full orchestration to help her prepare for her roles.

"A lot of the operas were written by people who have been dead 100 or 150 years," Major said. "There are traditions with them that aren't written in the score, but have been passed down. For example, in this opera it's the high E flat in the aria, which gets so crazy and excited. Tradition is that if the soprano has a high E flat, which I do, the audience expects it. The composers didn't really expect to write every note, they expected the performers to add some in."

"La Traviata," one of three so-called "Verdi's Potboilers," is among the 10 most popular operas on the boards today. The story was recounted in the classic movie "Camille" starring Greta Garbo, and later modernized in "Pretty Woman" with Julia Roberts and "Moulin Rouge" with Nicole Kidman.

Major and Muir are making their debut with Rimrock Opera Company after Muir met Nagel in 1999. Major's repertoire includes Mozart, Rossini, Handel, Gounod, Stravinski, Bizet and Verdi. Muir has sung with Opera San Jose, Seattle Opera and Santa Fe Opera. The couple just finished performing "The Barber of Seville" in Coeur d'Alene, Idaho, and after the opera here closes, they plan to complete their move to New York City to be closer to the opera industry.

Both in their mid-20s, the couple studied opera at San Jose State University where they met on the stage.

"I was in the chorus, she was the lead," Muir said. "It was pretty much love at first sight."

In the role of Giorgio Germont, Alfredo's high-society father, is Jan Michael Kliewer of Powell, Wyo., who sang the toreador Escamillo in Bizet's "Carmen" for Rimrock Opera, as well as Masetto in "Don Giovanni" and Dr. Harding in the world premiere of "Nosferatu."
Rolek will conduct a 30-piece orchestra in the pit, and a solid supporting cast of local and regional singers will bring Verdi's music to life, framed by sets from Stivanello of New York, 1850s Paris costumes from Utah Opera, and lighting design by Alex Heyneman.
Student falls in love with 'La Traviata'
JACI WEBB Of The Gazette Staff | Posted: Wednesday, October 26, 2005 11:00 pm
When Tay Stone watched soprano Christina Major collapse on stage during Rimrock Opera Company's school show of "La Traviata" Wednesday, the Roberts eighth-grader thought it was wonderful.

It was Stone's first taste of opera, and she was struck with the dramatic performance.
"It was classic opera - forbidden love, an angry father and a death scene," Stone said.
Sneak peek.

More than 200 area students watched Acts II and III of the Giuseppe Verdi opera in Billings, which will be presented in full Friday at 8 p.m. and Sunday at 2 p.m. at the Alberta Bair Theater. Stone, who attended the show with 24 other students from Roberts, said she heard some kids laughing because they thought "the loud singing was funny," but she thought it was all beautiful.

The Italian opera tells the story of a beautiful Parisian courtesan, Violetta, who falls in love with Alfredo, who is from an established family that is disgraced by their relationship. Major's real-life husband Joseph Muir plays Alfredo and Jan Michael Kliewer of Powell, Wyo., plays Alfredo's father.

Rimrock Opera Company artistic director Doug Nagel said he didn't have the opportunity to see a live opera when he was growing up in Billings in the 1970s. That's part of the reason he returned to his hometown to found the opera company and why he pushes so hard for the school shows, where students and community members can see part of the opera for $5.

"The first opera I saw, I was in - "Magic Flute" - when I was a student at Rocky Mountain College," Nagel said.

Looking for inspiration

Teachers helped prepare students for the opera using a study guide created by the opera company and distributed through the Alberta Bair Theater's education department.
In Roberts, students studied the opera on Tuesday before seeing the performance. Their music teacher, Julie Jones, said she is revamping the music program after it was cut from the budget a year and a half ago. All 12 members of the Roberts eighth-grade class and 13 band students were bussed in for the show. They plan to put on a stage show in the spring and were looking for inspiration at Wednesday's matinee.

Keith Thomas, a freshman who sings and plays tenor saxophone at Roberts High School, said he likes to perform but isn't sure he could sing opera. He was last on stage a couple of years ago in "Grease," which was presented with help from the Roberts Parents for Performing Arts.

"I liked the party scene best in this opera where everybody was singing at the same time," Thomas said.

Another Roberts freshman, Oliver Elver, said he was impressed with the vocalists, particularly Kliewer, who teaches music at Northwest College in Powell, Wyo.
"He had a great booming voice," said Elver, who has a part in the chorus of Billings Studio Theater's "Oliver."

The show was a dress rehearsal for the ROC production so students got a chance to see a set change and an on-stage wig change. The backdrops were rented from New York City and painted in Italy, Nagel told the audience. As the stage crew scurried to change the scene from a country garden to an elegant party, Nagel took questions from the audience.

Students wondered how the company assembles props, why most operas are sung in foreign languages, and whether local vocalists perform with ROC.
Nagel said opera board members help assemble props to help the company capture the look of the 1500s, which is when the opera was set.

"We have really great board members who open their homes to us and allow us to scavenge through their houses and find what we want," Nagel said. "We're in Billings, Montana, and we don't always have a lot of period pieces."

As for the language, Nagel pointed out that most operas are written in German, French and Italian so the company shows the English translation above the stage. The opera company mixes local talent with out-of-town performers.

"The kids were very attentive, and they asked good questions," said ABT school show coordinator Mary Helgeson.

Students attending the matinee performance were from St. Francis Upper School, COR Enterprises, Billings Educational Academy, Fromberg High School, Trinity Lutheran School, and home school students and educators.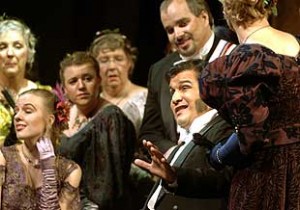 JAMES WOODCOCK/Gazette Staff
Opera singer Joseph Muir, who plays the lead with his wife, Christina Major, is surrounded on stage by cast members in elaborate gowns during a scene from 'La Traviata' Wednesday morning.


JACI WEBB Of The Gazette Staff The Billings Gazette | Posted: Thursday, November 3, 2005 11:00 pm
An aria to remember

Oh, why does opera have to be so tragic?

When Violetta collapses in her death scene in "La Traviata," she hits her loveliest note and then dies, but not of a broken heart. As an audience member, I was the one who was heart-broken. I will probably never again hear Christina Major's impressively pure soprano voice - at least not on a Billings stage.

The Texas native and her husband, Joseph Muir, who played her on-stage lover Alfredo, are on a fast-track in the opera world. After the show closed last Sunday, they planned to continue their move to New York City where they can be closer to the opera industry. I wish them luck because they are both talented, young and passionate about opera.
The poignant story follows the fate of the two lovers, pulled apart by Alfredo's father Giorgio Germont, played with such intensity by Powell, Wyo., music professor Jan Michael Kliewer. "Moulin Rouge" is based on the story.

Fortunately for us, Kliewer will be back to perform again and again with the Rimrock Opera Company and we can continue to follow his progress. He debuted in the "Merry Widow" and returned for roles in "Carmen" and "Nosferatu." He blossomed in this latest role, partially because it had such a broad range of emotion. This was a prime role for a polished baritone like Kliewer and he carried it off with great style.

Bravo to Rimrock Opera Company's artistic director Douglas Nagel for his vision in finding talented local vocalists and impressive young vocalists on the national scene who are on their way up.


©2000-2006 Rimrock Opera Company. All rights reserved