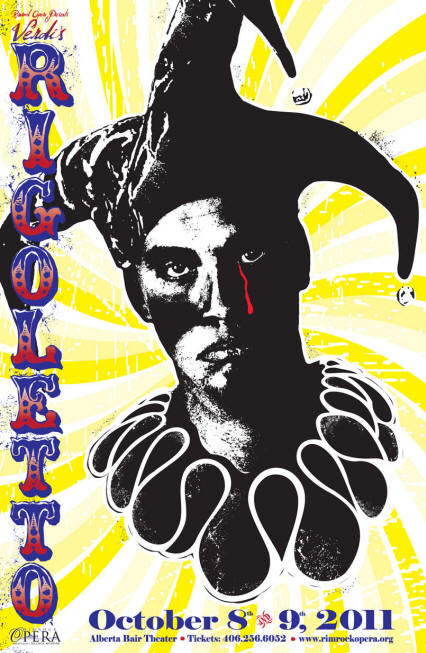 Saturday October 8 @ 7:30 pm
Sunday October 9 @ 3 pm
Story by JACI WEBB Of The Gazette Staff
Review
Review by Sharie Pyke

Dress Reharsal Photographs by
Dennis Kern | Kathy Williams
The Cast (in order of vocal appearance)
Jeffrey Grant Kitto
*Kyle Trott
Mary Elizabeth Ryan
Robert Aaron Taylor
Joshua Aaby
Philip Johnson
William Mouat
Daren Small
Lisa Lombardy
Janie Rife
Michelle Berger
*Alan Schuyler
Jorion Lokken
Jennifer Chapman,
Kelly Deiling,
Debra Gloor
Shelly Ryan, Karla Stricker
The Duke of Mantua, tenor
Matteo Borsa, a courtier, tenor
The Countess Ceprano, mezzo-soprano
Rigoletto, the Duke's jester, a hunchback, baritone
Count Ceprano, a nobleman, bass
Cavaliere Marullo, a courtier, baritone
Count Monterone, a nobleman, baritone
Sparafucile, a professional assassin, bass
Gilda, daughter of Rigoletto, soprano
Giovanna, Gilda's nurse, mezzo-soprano
Maddalena, sister of Sparafucile, mezzo-soprano
Usher, baritone
Page, soprano
Supernumeraries (non-singing roles)
Chorus: Joshua Aaby, Lance Hansen, Philip Johnson, *Jordan Jones, Travis Kuehn, Nate Liptac, Randy Rabas, Mike Ryan, *Davy Schanno, Alan Schuyler,
*Silbs Silbernagel, *Ben Swanson, Kyle Trott
Doug Nagel, Producer
Andy Anderson, Conductor
Matthew Haney, Stage Director
Alex Heyneman, Lighting Designer
Daren Small, Chorus Master
Sandi Rabas, Chorus Pianist
*Dr. Geraldine Boyer-Cussac, Rehearsal Pianist
and Titles Projectionist
Chadwick Creative Arts, LLC, English Text
Richelle Stricker, Stage Manager
Dodie Rife, Assistant Stage Manager and Properties Master
Loretta Wittmer, Costume Director
Marie Thompson, Assistant Costume Director
Kristen Reid, Wig and Make-up Director
Jennifer Evans, Make-up Assistant
Alberta Bair Theater Technical and Stage Crew
Randy Jordan, ABT Technical Director
Utah Festival Opera, Set Construction
James Lyden, Set Designer and
Set Technical Director
Curtains Up Costumes, Rigoletto Costumes
*Hunter Hash, Production Assistant
* indicates debut with Rimrock Opera
Performance duration is approximately 2 hours, with one 15 minute intermission
The use of cameras and recording equipment is prohibited. Please silence all phones and electronic devices.

synopsis

Composer: Giuseppe Verdi

ACT I. Mantua, 1500s. At his palace, the Duke lightheartedly boasts to his courtiers of amorous conquests, escorting Countess Ceprano, his latest prize, to a private chamber as his hunchback jester, Rigoletto, makes fun of her husband. Marullo announces that Rigoletto is suspected of keeping a mistress, and Ceprano plots with the courtiers to punish the hated buffoon. Attention is diverted when Monterone, an elderly nobleman, enters to denounce the Duke for seducing his daughter. Ridiculed by Rigoletto and placed under arrest, Monterone pronounces a curse on both the Duke and his jester.

On his way home that night, Rigoletto broods on Monterone's curse. Rejecting the services offered by Sparafucile, a professional assassin, he notes that the word can be as deadly as the dagger. Greeted by his daughter, Gilda, whom he keeps hidden from the world, he reminisces about his late wife, then warns the governess, Giovanna, to admit no one. But as Rigoletto leaves, the Duke slips into the garden, tossing a purse to Giovanna to keep her quiet. The nobleman declares his love to Gilda, who has noticed him in church. He tells her he is a poor student named Gualtier Maldè, but at the sound of footsteps he rushes away. Tenderly repeating his name, Gilda retires. Meanwhile, the courtiers stop Rigoletto outside his house and ask him to help abduct Ceprano's wife, who lives across the way. The jester is duped into wearing a blindfold and holding a ladder against his own garden wall. The courtiers break into his home and carry off Gilda. Rigoletto, hearing her cry for help, tears off his blindfold and rushes into the house, discovering only her scarf. He remembers Monterone's curse.

ACT II. In his palace, the Duke is distraught over the disappearance of Gilda. When his courtiers return, saying it is they who have taken her and that she is now in his bedchamber, he joyfully rushes off to the conquest. Soon Rigoletto enters, warily looking for Gilda; the courtiers bar his way, though they are astonished to learn the girl is not his mistress but his daughter. The jester reviles them, then embraces the disheveled Gilda as she runs in to tell of her courtship and abduction. As Monterone is led to the dungeon, Rigoletto vows to avenge them both.

ACT III. At night, outside Sparafucile's run-down inn on the outskirts of town, Rigoletto and Gilda watch as the Duke flirts with the assassin's sister and accomplice, Maddalena. Rigoletto sends his daughter off to disguise herself as a boy for her escape to Verona, then pays Sparafucile to murder the Duke. As a storm rages, Gilda returns to hear Maddalena persuade her brother to kill not the Duke but the next visitor to the inn instead. Resolving to sacrifice herself for the Duke, despite his betrayal, Gilda enters the inn and is stabbed. Rigoletto comes back to claim the body and gloats over the sack Sparafucile gives him, only to hear his supposed victim singing in the distance. Frantically cutting open the sack, he finds Gilda, who dies asking forgiveness. Monterone's curse is fulfilled.