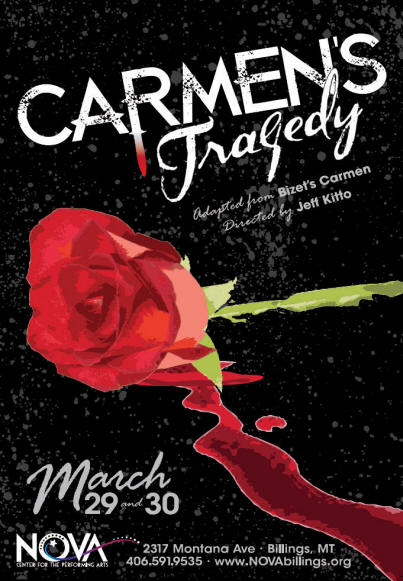 With some of the most thrilling, popular, and familiar opera music, Carmen's Tragedy will be performed at NOVA Center for the Performing Arts, 2317 Montana Avenue, at 7:30pm Saturday, March 29 and 2:00pm Sunday, March 30.

Carmen's Tragedy is a unique performance featuring Bizet's beloved tale of doomed love and violent passion. It was adapted from Carmen by Georges Bizet. Performers in Carmen's Tragedy include Michelle Berger as Carmen, William Mouat as the bullfighter Escamillo, Carolyn Coefield as Micaela, and Jeff Kitto as Don José. Shawn Rasch as Lillas Pastia and fight choreographer Jayme Green will portray both the villainous Lieutenant Zuniga and the dangerous brigand Garcia transported directly from the novel, Carmen and Other Stories, by Prosper Mérimée.

Carmen's Tragedy will be directed by Jeff Kitto with special directorial consultation from Dr. William Mouat, a doctoral graduate expert on the subject of Carmen.

Billings Gazette Press Link

Director: Jeff Kitto

Production Consultant and Author: William Mouat

Stage Manager: Dodie Rife

Collaborative Pianist: Sandi Rabas

Carmen: Michelle Berger

Don José: Jeff Kitto

Escamillo: William Mouat

Lilas Pastia: Shawn Rasch

Micaela: Carolyn Coefield

Zuniga/Garcia/Fight Director: Jayme Green



Carmen photo shoot:

Photo of Michelle Berger who will be performing the role of Carmen



Photo of Jeff Kitto who will be performing the role of Don José



Photo of Michelle Berger who will be performing the role of Carmen



Photo of Jeff Kitto who will be performing the role of Don José and Gary Treglown the costumer
NOVA's 'Carmen's Tragedy' hits all of the right notes
Created on Thursday, 03 April 2014 19:31
REVIEW
By DAVID CRISP – The Billings Outpost

If you have always thought you ought to give opera a try but were intimidated by its over-the-top costumes, voices and dramatics, then the NOVA Center for the Performing Arts may have just the entry point for you.

Last weekend, NOVA whittled down "Carmen," an old warhorse of an opera, to "Carmen's Tragedy," a svelte pony of just 100 minutes, including intermission and opening remarks. It was an under-the-top, greatest-hits version of one of opera's greatest hits, with voices and costumes intact but lots of the crowds and clamor gone.

If crowd reaction is any guide, the presentation was a great success. Craig Huisenga, interim managing producer for NOVA, said Saturday night's show in NOVA's Roebling Theater was packed, and only a few seats were vacant for the closing performance on a rainy Sunday afternoon.

The crowd was fully engaged, not just in the obligatory end-of-show standing ovation but also with shouts of "Bravo" and "Brava" throughout and clapping along to some of the better-known tunes. The cast wandered at times into the crowd, too, finding a hand to kiss or a lap to borrow. This was not some sterile homage to a classic but lively and contemporary theater, and all in English.

And the voices were terrific, no surprise to anyone who has followed Rimrock Opera productions over the years. This was the first opera show since Rimrock and Venture Theatre joined forces to form NOVA, and Sunday's show preserved the quality if not the name.

Michelle Berger, a Montana native who has sung with operas in Switzerland, Spain, Colorado, Idaho and Billings, sang the title role with full volume and energy. William Mouat, director of education and cultural outreach at the Alberta Bair Theater, sang Escamillo, the bullfighter. Carolyn Coefield as Micaela had a relatively small part but practically stole the show with her third act aria.

Jayme Green showed up long enough to get stabbed in two separate scenes and as two different characters. Sandi Rabas provided flawless piano accompaniment.

Director Jeffrey Grant Kitto, one of the founding members of the Bozeman rock band The Clintons, also has wide opera experience. In the key role of Don Jose, he seemed to grow into his part as his character's troubles mounted, from an easygoing and gullible soldier to an obsessed and murderous deserter.

The whole experience was a bit like watching one of those NFL highlight films. For a few minutes, you wonder why anyone would ever bother to watch a game any other way. Then eventually you figure out why all those pauses, penalties and busted plays are needed for the narrative flow and suspense of the live game.

Something of the same sense prevailed at "Carmen's Tragedy." It's all fireworks and gorgeous music, but eventually you begin to wonder how all of these characters fit together. The 90-minute version often comes across as random episodes of philandering and violence with not much in between. Key characters die violently, and deserve to.

Mr. Huisenga promised the crowd that NOVA hasn't given up on full-scale opera productions. The next, "La Traviata," will play at the Alberta Bair Theater on Oct. 30 and Nov. 1.

For experienced opera goers, that will provide the full opera experience. For the rest of us, the Reader's Digest condensed version we got last weekend makes for a rousing and highly entertaining introduction.
Berger and Kitto in Carmen's Tragedy Billings Gazette By Jaci Webb
 CASEY PAGE/Gazette Staff

Mezzo-soprano Michelle Berger sings the role of Carmen in "Carmen's Tragedy," which comes to the NOVA Center stage for two performances March 29-30.
March 21, 2014 12:15 am •

Tragedy in English
In his directorial debut, Bozeman tenor Jeff Kitto takes on some of the world's most familiar music in Georges Bizet's "Carmen's Tragedy."
But what Kitto was raving about last week was Jayme Green's fight choreography and the gun play on stage. As the opera's leading male character, Don Jose, Kitto is exploring the passion and irrationality of a man who loves too much. He gets to exhibit his infatuation with fists and guns.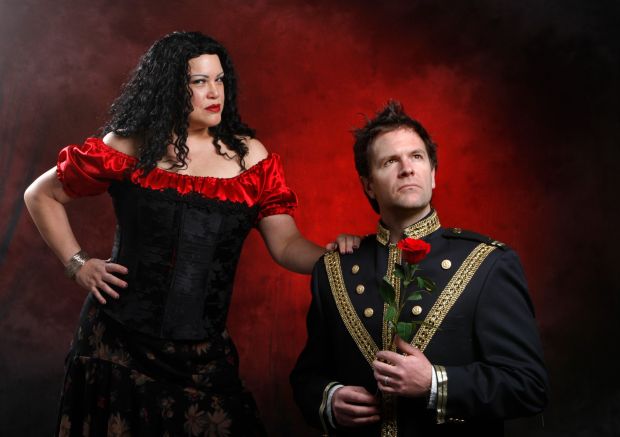 "All these characters are so complex, so deep," Kitto said. "You can watch it 50 times, and depending on who plays Jose, you'll see a different approach to him every time."

Billings is a familiar market for Kitto and the role of Don Jose is comfortable for the one-time rock musician, who performed with the Bozeman rock band The Clintons. Since turning to opera, Kitto has performed as Jose five times.

Kitto is a contrast to the hot-headed Jose, who likes to kill to show off for his girl. Kitto doesn't seem to get too worked up about things, but when he gets on stage he's a vocal powerhouse.

"I keep telling everybody, 'Don't worry, we're going to rock this show,' " Kitto said.

William Mouat, a veteran opera singer, will assist with directing since he wrote his doctoral thesis on "Carmen."

The opera, which was written in French and set in Spain, will be performed in English at NOVA Center for the Performing Arts on March 29 and 30. If the two scheduled performances sell out, the rehearsal on March 28 will be turned into a full production open to the public.

The object of Jose's sick affections is the title character, played by Billings performer Michelle Berger. The mezzo-soprano has made her mark nationally and performed in several operas in Billings. She has performed in "Carmen" four times.

Because the opera will be performed without an orchestra, vocalists will not have to strain their voices trying to sing over the instruments. They will also involve the audience more in the production because

the venue is smaller. Don't be surprised if Carmen brushes against your shoulder or one of the soldiers locks eyes with you while you sit in the audience.

This production is the first produced by NOVA, which came out of the merger of two organizations, Rimrock Opera Co. and Venture Theatre.

During Carmen's aria, "Habanera," she sings to dozens of people in the town square. In this production, Berger will sing to the audience, interacting with them as if they are part of her chorus, Kitto said.

Berger plans to portray Carmen as a multi-dimensional woman, not limiting her to "only a strumpet."

"There is this sort of sick, devious side of her. But she is also driven by her passion. She does love these men and it's not just sexual attraction," Berger said.

Sandi Rabas will accompany the vocalists on piano. Other performers include Mouat as the bullfighter Escamillo, Carolyn Coefield as Micaela, Shawn Rasch as Lillas Pastia, and Green will portray Lt. Zuniga and Garcia.

The opera, "Carmen," is taken from the book by Prosper Merimee, "Carmen and Other Stories." Bizet chose the fictional story to base the opera on after he was commissioned by the Opera-Comique to write a full-length opera. Bizet had never been to Spain, but he set the opera there because the novel was about an adventure in Spain.

When "Carmen" opened in 1875, reviewers at the time criticized the work, calling Carmen "an amoral seductress" and complaining that it was "the very incarnation of vice." In 1884, "Carmen" made its Metropolitan Opera debut in New York and became part of the Met's regular repertoire