Hansel and Gretel 2004
Poster Design by
© Heins Creative
Rimrock Opera offers "Hansel and Gretel" preview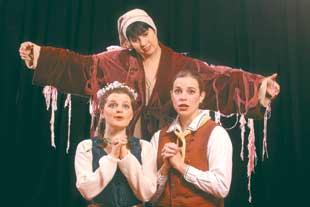 LARRY MAYER/Gazette Staff
Carla Mar is the Sand Man, while Alissa Rose as Gretel and Heidi Rae Kalina as Hansel have the title roles in Rimrock Opera Company뭩 upcoming production of 'Hansel and Gretel.'
Rimrock Opera offers "Hansel and Gretel" preview
Posted: Wednesday, March 17, 2004 11:00 pm
Gazette Staff
Get a free sneak peek of "Hansel and Gretel."
The whole family is welcome to live previews of the Rimrock Opera's production.
The familiar childhood fairy tale allows audiences of all ages to experience opera up close in an informal setting. Rimrock Opera cast members will be on hand in full costume to perform selected scenes from the upcoming full-length opera.
The free previews will be 6 to 6:30 p.m. today and 5 to 5:30 p.m. Saturday in the Food Court of West Park Plaza, 16th Street West and Grand Avenue.
The full opera will be staged March 26 and 28 at Alberta Bair Theater. For performance information and to buy tickets call the Alberta Bair box office at 256-6052.
Take care in the woods: Rimrock Opera stages 'Hansel, Gretel'
Posted on Thursday, March 25, 2004 11:00 pm Photos By LARRY MAYER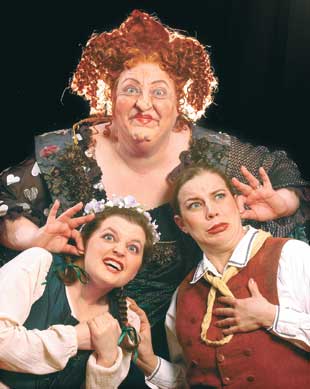 Photos By LARRY MAYER
Victoria Hart as the witch pulls on the ears of Alissa Rose as Gretel and Heidi Rae Kalina as Hansel. Karen Evanson performs as the Dew Fairy with Heidi Rae Kalina as Hansel and Alissa Rose as Gretel. Amanda Ryvkin, daughter of conductor Valery Ryvkin, right, sits with Rimrock Opera director Doug Nagel as they study the score for 'Hansel and Gretel.' Edward Harris and Kathleen Lane have roles as Peter and Gertrude.
Take care in the woods: Rimrock Opera stages 'Hansel, Gretel'
JACI WEBB Of The Gazette Staff | Posted: Thursday, March 25, 2004 11:00 pm
For a witch, Victoria Hart isn't very scary.

But, when she attaches her fake rubbery nose and flowing black dress to portray the witch in Rimrock Opera Company's "Hansel and Gretel," she is a presence with which to be reckoned. Hart has made a career out of playing mean people, but she said she likes to add a comedic touch.
As the maid in "Barber of Seville," Hart sneezed all the time.

"I do a lot of character roles, and you have a short time to make an impression," Hart said. "You have to go out on stage and get their attention quickly.

"What's interesting to me in this role is that the witch has to have two sides, seductive to lure the children in with her 'We're going to have a great old time' and her mean side."

In a retelling of the popular fairy tale, Rimrock Opera will present Engelbert Humperdinck's "Hansel and Gretel" twice beginning tonight at the Alberta Bair Theater. The production, under the artistic direction of Douglas Nagel, is conducted by Hart's husband, Valery Ryvkin.

The two-act performance runs two hours with a 15-minute intermission. The show promises to take the audience on a magical journey into music, art and drama, while keeping the traditional story-line of a classic tale.

"The highlight for me is the wonderful prayer and interlude when the angel appears," Hart said. "The music is so beautiful."

Hart, a contralto, is a soloist in opera and concert repertoire. She has appeared in leading and supporting roles with Long Beach Opera, Opera Santa Barbara and Eugene Opera.
Ryvkin said some people may mistakenly believe that the opera is geared only to youths because it is taken from a fairy tale.

"One of the problems is that people see it as a children's opera," Ryvkin said. "I passionately disagree with that.

"The music is unbelievably sophisticated. It's like Wagner. Even the fairy tale is morality play. It is good versus evil, and good wins, which is something we need more now than ever."
Ryvkin, who was born in Russia and graduated from the Julliard School of Music, was an assistant conductor at New York's Metropolitan Opera and was assistant conductor to James Levine for the production of Wagner's "Der Ring Des Nibelungen."

Ryvkin lives in Santa Barbara with Hart and their 7-year-old daughter, Amanda, who plays a gingerbread cookie in the production.

Although Hart and Ryvkin have performed together several times and Amanda has performed with one or the other parent, this is the first production in which the entire family has performed together. Amanda, who has been going to opera since she was a baby, said she thinks that the most important message in the show is that the children need to learn to take responsibility for themselves.

"They have to learn to depend on themselves," Amanda said.

The journey begins when Hansel and Gretel find themselves lost in a forest after being sent out to pick strawberries. They soon discover the candy house, along with the witch, who bakes little boys and girls into gingerbread.

The witch attempts to fatten up Hansel, while Gretel cleverly asks the witch to show her how to use the oven, then pushes her in. With the witch gone, all the gingerbread children around the house become real again, and Hansel and Gretel are reunited with their parents.

Florida Grand Opera's Jennifer Cooper and Montana native Heidi Rae Kalina, who are mezzo-sopranos, will share the role of Hansel. Cooper performed in a school show on Thursday and performs Sunday. Kalina will perform tonight.

Billings native Alissa Rose, who lives and performs opera in Germany, is cast as Gretel. A soprano, Rose has performed as the Sand Man and Dew Fairy in other performances of "Hansel and Gretel" and was a genie in "The Magic Flute."

Other performers include mezzo-soprano Kathleen Lane as Gertrude, baritone Edward Harris as Peter, soprano Karen L. Evanson as the Dew Fairy and soprano Carla Mar as the Sand Man.
Nagel has sung 20 leading baritone roles with Opera San Jose and has produced and directed several works, including "Die Fledermaus," "The Pirates of Penzance" and "The Magic Flute." He will sing Orlock (Dracula) in the Rimrock Opera-Idaho co-produced world premier of "Nosferatu" this fall.

Nagel said a highlight of "Hansel and Gretel" is watching the growth of the children who are involved in the show.

"I'm totally about empowering kids," Nagel said. "We have kids who came from all over to audition for 'Hansel and Gretel.' That's why we have 28 kids in the chorus.

"There is talk about keeping an opera children's chorus."

Assistant director Dorinda Doolittle, a retired teacher from Medford, Ore., said interest in opera in Billings continues to grow.

"People have made a choice to be interested in opera because Douglas has made it so user-friendly to everybody," Doolittle said. "People who had never been to opera can't wait until the next one."