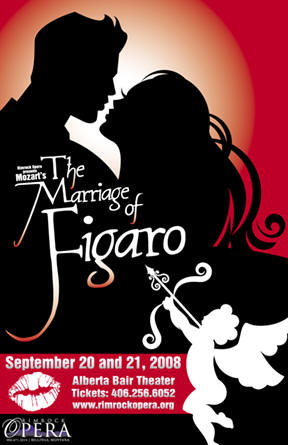 Wolfgang Amadeus Mozart
"The Marriage of Figaro
CAST AND PRODUCTION TEAM
Sung in English with English text projected above the stage
SATURDAY, September 20, 2008 at 7:30 PM
SUNDAY, September 21, 2008 at 3:00 PM
A cornerstone of the operatic repertoire, The Marriage of Figaro is one of the most famous operas ever written. A boisterous romantic comedy, the story intertwines well-known melodies with a wildly entertaining parade of identities mistaken, ruses gone awry, tables turned, and no end of surprises. Mozart's brilliant comic opera, sung in English, covers one "crazy day" in a nobleman's court. Colorful sets and rich costumes showcase a cast of nationally known opera stars and full orchestra. Launching its tenth season, Rimrock Opera's production is set for Saturday, September 20, at 7:30 and Sunday, September 21, at 3:00 PM at the Alberta Bair Theater.

Jul 31, 2008
Tickets for the Rimrock Opera Company's fall production of Mozart's "The Marriage of Figaro" are now available at the Alberta Bair Theater box office or online at www.rimrockopera.org.
Performance dates are Sept. 20 at 7:30 p.m. and Sept. 21 at 3 pm. at the Alberta Bair Theater.
This is Rimrock Opera's 10th season and to celebrate, the Billings company is presenting one of the world's most famous operas, a comedy with a familiar story line and music.

"Marriage of Figaro" deals with seeking revenge, revealing secrets and appropriately applied come-uppance throughout one "day of madness" in a nobleman's court, ending with a host of happy couples sorted out at last. Populated by vivacious singers brought back by popular demand, the cast lineup includes baritone Robert Aaron Taylor in the title role. He played the show-stealing quack, Dr. Dulcamara, in Rimrock Opera's "Elixir of Love." As his bride-to-be, soprano Amy Logan sings Susanna. Christopher Holmes returns in the role of Figaro's arrogant master, Count Almaviva, with mezzo soprano Diedra Walker as the clever Countess.

Meghan Dibble, Nancy Downing, Isai Jess Munoz, Aaron Pagniano and Dennis Rupp round out the cast. Making his Billings conducting debut, French-born Michel Singher leads the Rimrock Opera Orchestra in some of the world's most beloved music. Dr. Chris Sheppard prepares the chorus, with Sandi Rabas as rehearsal pianist. The opera is sung in English, with English text projected above the stage.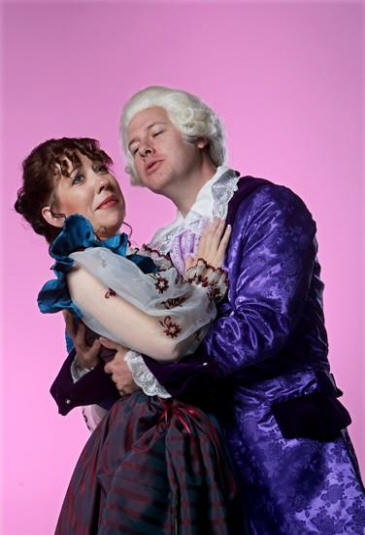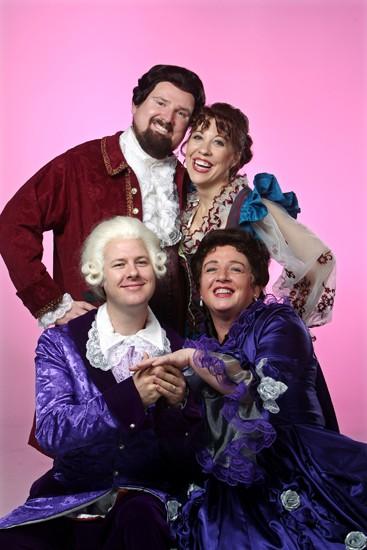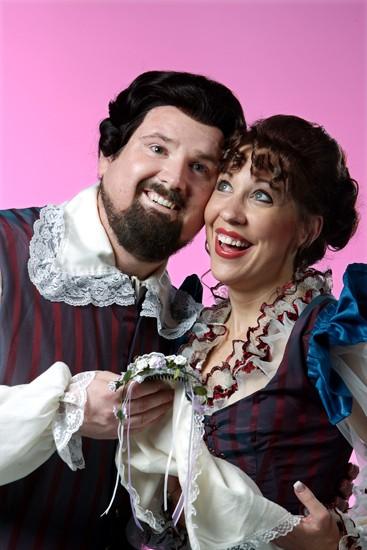 Photographs by Casey Riffe, Billings Gazette

Coming full circle with 'Figaro'
Rimrock Opera marks its 10th anniversary with Mozart 'sequel' to company's 1st production
JACI WEBB Of The Gazette Staff Sep 18, 2008

It is fitting that in celebration of its 10th season, Rimrock Opera Company will complete the story started in "The Barber of Seville," presented by ROC in its inaugural season, by performing "The Marriage of Figaro" this weekend.

Both operas are based on plays by Pierre Beaumarchais, but "The Barber of Seville" was written by Gioacchino Rossini and "Figaro" was penned by Wolfgang Amadeus Mozart.
"The Marriage of Figaro," which will be sung in English, is considered some of Mozart's finest music. The territory that the story explores - the often contentious relationship between the classes - was controversial when it was written in the mid-1780s. That's why the original play by Beaumarchais was banned by French rulers and why Mozart's opera made the Austrian monarchy a bit nervous.

Beaumarchais' play and Mozart's opera illuminate the limitations of rank and privilege, showing that common sense can overcome wealth and power.
"The Barber of Seville" tells the story of a young nobleman who won his lover away from her lecherous guardian, Dr. Bartolo, but only with considerable help from his friend Figaro. As "The Marriage of Figaro" begins, three years have passed. The young lovers are now the Count and Countess Almaviva and Figaro is the Count's valet and engaged to marry the Countess' maid, Susanna.

The story is set in Spain and includes a double-wedding, the finding of a long-lost son and a hilarious plot to fool the Count.

Performances on Saturday night and Sunday afternoon at the Alberta Bair Theater will feature several familiar faces to local opera fans, including Skyview High School choir teacher Amy Logan in a leading role as Susanna. The title role is played by Robert Aaron Taylor, who was the show-stealing quack, Dr. Dulcamara, in Rimrock Opera's "Elixir of Love." Christopher Holmes returns to Rimrock Opera in the role of Figaro's arrogant master, Count Almaviva, with mezzo soprano Diedra Walker as the clever Countess.

Douglas Nagel, general director of ROC, takes pride in the fact that the Billings opera company is an organization that vocalists respect enough to return for shows. Dennis Rupp, who plays Dr. Bartolo, enjoyed performing with ROC and coming to Billings so much, he moved here.
During rehearsal last week in the former Ben Franklin store at West Park Plaza, Nagel led a run-through of Acts 3 and 4. Nagel champions the advancement of young vocalists. In "Figaro," some members of the chorus, including Kendra Hertz, have advanced to the level of performing in the adult chorus after years of performing with the Rimrock Opera Chorus for Kids (ROCK).

"Theater is about learning timing," Nagel told the chorus. "You should always give 100 percent."
Meghan Dibble, Nancy Downing, Dennis Rupp, Chris Sheppard and Isai Jess Munoz round out the cast. Making his Billings conducting debut, French-born Michel Singher, leads the Rimrock Opera Orchestra. Sheppard prepared the chorus and Sandi Rabas served as rehearsal pianist.


©2000-2011 Rimrock Opera Company. All rights reserved