Georges Bizet Carmen
Synopsis

Sung in French with English dialogue and English Text projected above the stage

SATURDAY, March 28, 2009 at 7:30 PM
SUNDAY, March 29, 2009 at 3:00 PM

Carmen, the irresistible gypsy girl, ignites and manipulates the love-struck soldier, Don Jose, and the pair set the stage ablaze. As familiar as Bizet's music is to nearly every ear, it never fails to ravish the senses. In celebration of our tenth season, Rimrock Opera presents Carmen on Saturday, March 28 at 7:30 p.m. and Sunday, March 29, 2009 at 3 p.m. at the Alberta Bair Theater. A full orchestra, stunning sets, sumptuous period costumes, and members of the Rimrock Opera Chorus for Kids, frame the principal singers to break faithful hearts once again.







 

 
Rimrock Opera stages classic tale of tragic love
JACI WEBB Of The Gazette Staff | Posted: Thursday, March 19, 2009 11:00 pm
Jeff Kitto looked like he was making snow angels on the gray patterned rug in a store front off Shiloh Road.

The Bozeman tenor, a lead in Rimrock Opera Company's upcoming production of "Carmen," had his 6-foot-3 frame stretched into an "X" shape waiting for blocking instructions from stage director Douglas Nagel. Because the opera isn't set to open until March 26 with a student matinee, the rehearsal was pretty relaxed Monday night. There was time to goof around a bit.

About half of the 75-member chorus was on hand, wearing an array of clothing, from a "Dimebag Darrell" T-shirt on one of the men to bright gauzy skirts on several women. It was the first of many long evening rehearsals. Vocalists had already learned the French lyrics and complex music, written by George Bizet in the 1870s. They sounded ready for opening night, voices uplifting and melodic, but their movements were uncertain as they strode across the room. Over and over again.

The rehearsal was for Act III, during which a band of gypsies crosses a mountain pass, dragging lumpy bags of smuggled goods.

With Nagel's coaching cocktail of prodding, insight and humor, this curious mix of community members started to resemble a tired troupe of gypsies, gossiping and groaning when they weren't singing their parts.

"Ever notice how people in Europe are very buddy-buddy with each other?" Nagel asked, urging them to link arms and hold hands while they walked.

Nagel boosted the size of the chorus for this production, eager to educate more people in the nuances of opera. In this group, there are choristers who have performed in eight operas and singers who joined the group over the winter, responding to a call for auditions. Steve Green and two of his three teenage daughters, Deyja and Devera, are all in the chorus, and noted pianist Jacquelyn Weitz and her brother Joseph are also part of the group.

"We had a gas," Nagel said after the rehearsal. "It was a really great moment for me because it looked like they were learning and they were having fun."

So lurid is the tale of the gypsy temptress Carmen that Paris audiences scorned the opera when it was first performed in 1875. But other composers raved about "Carmen," including Tchaikovsky and Brahms, who reportedly saw it performed more than 20 times and considered it the greatest opera in Europe at the time. "Carmen" is sung in French, set in Spain and has dialogue spoken in English.

The story follows Carmen, a sensuous gypsy, who slashes another worker with her knife and is held captive, awaiting a trip to prison. But her captor, Don Jose, is so smitten that he helps her escape. The role of Carmen is played by Montana native, mezzo-soprano Heidi Rae. Jose (pronounced Joe-zay) is played by Kitto. Other roles are played by Christopher Holmes, Carolyn Coefield, Megen King, Meghan Dibble, Isai Jess Munoz, Dennis Rupp, Bret Weston and Chris Sheppard. Andy Anderson conducts, and Sandi Rabas serves as rehearsal pianist.

As testament to the Rimrock Opera Company's strong reputation in the opera world, Nagel said he is able to bring performers back again and again.

"None of the leads are making their debut here," Nagel said. "They've all appeared in at least one opera here."

Fresh out of college and all set to move to Nashville to pursue a career in country and pop music, Rae was persuaded by Nagel to try her hand at opera and joined ROC for "Hansel and Gretel."
That was an important move for the Lewistown native because through other cast members, Rae met her future husband. Her experience in Billings also helped her get parts in productions by Opera Idaho and Opera San Jose and a role in Baz Luhrmann's "Boheme on Broadway."
"The gingerbread children were my future husband's cousins," she said. "And at the after-party, I was introduced to him. He only went to the opera to support his cousin. Now, I put him over to the other side and he enjoys opera."

Kitto, a founding member of The Clintons rock band of Bozeman, made a guest appearance with his former band on St. Patrick's Day at Bones Brewery. He is hoping to coax a couple of his former bandmates to make a walk-on appearance in "Carmen" next week.

This role of a hot-headed Spanish soldier has Kitto digging deeper into his own psyche.
"If I contrast it to my role in 'Elixir' last year, which had some passion in it but it was pretty light-hearted, this role is very strong. I go from a man so broken-hearted and then so angry. I look at my little girl and my wife and tap into the pool of passion there."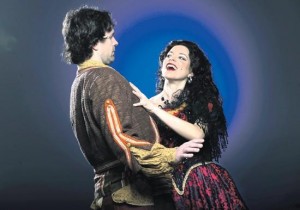 JAMES WOODCOCK/Gazette Staff
The sensuous gypsy Carmen, portrayed by Heidi Rae, tempts her captor Don Jose, sung by Jeffrey Kitto, in Rimrock Opera's production of Bizet's "Carmen," which runs March 28 and 29 at the Alberta Bair Theater.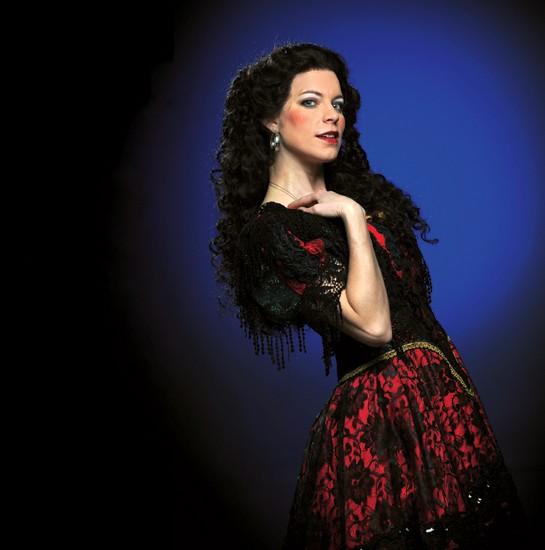 JAMES WOODCOCK/Gazette Staff
Mezzo-soprano and Montana native Heidi Rae performs the title role in the Rimrock Opera production of "Carmen," coming to the ABT.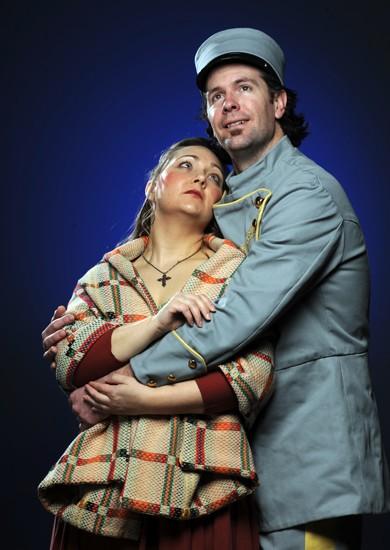 JAMES WOODCOCK/Gazette Staff
Micaela, portrayed by Carolyn Coefield, tries to win back her childhood love Don Jose (Jeff Kitto), but he has eyes only for Carmen. Coefield and Kitto are two of the performers in the upcoming Rimrock Opera production of "Carmen."
<![if !supportLineBreakNewLine]>
<![endif]>

Kids captivated Carmen
Gazette News Services | Posted: Wednesday, March 25, 2009 11:00 pm
"No" never sounded as blasphemous as it did Thursday coming out of Carmen's painted lips.
How dare she spurn Don Jose's worshipful adulation and choose death over love? Five hundred area high school students felt opera's force Thursday morning at the Alberta Bair Theater. The high drama, including a girl fight, a duel with knives, and a death scene, wasn't lost on them.
"I liked the death scene best. And the woman who played Carmen was really good," said Heidi Breeden, a sophomore from Forsyth.

Heidi Rae, a Lewistown native, played the title role and Jeff Kitto, of Bozeman, played her spurned lover Don Jose. Carolyn Coefield played Jose's childhood sweetheart Micaela.
Elizabeth Schneemann, also a sophomore from Forsyth, said she sings in the school choir, but wasn't sure if she'd ever tackle an opera role.

"I'd be nervous," she said.

The Forsyth students boarded buses before sunrise to catch the morning performance of Rimrock Opera Company's production. They planned to have lunch at Rimrock Mall before heading home. Not one school canceled their trip to see the opera, despite snow-packed roads, ABT education director Bess Fredlund said.

Students came from Cody, Wyo., Reed Point, Joliet, Lodge Grass, Laurel and across Billings. For many, it was their first opera and several dressed for the occasion. Randell Hopkins, a freshman at Billings Christian School, donned a tie and dress shirt. He and his peers studied the plot during two lunch sessions so they could follow the action.

"This should be pretty good," Hopkins said just before the curtain went up. "I watched 'Phantom of the Opera' and I guess it will be sort of like that."

Douglas Nagel, ROC general director, said he was impressed with the young audience.
"The kids really paid attention," Nagel said. "They were pretty excited about being here."

The opera is set in Spain, sung in French, with dialogue spoken in English. The ROC last performed it in 2002. French students from Billings Senior High took in the performance and some said they were able to interpret a few words without looking up at the projected super titles above the stage.

"It was pretty cool hearing them sing in French," said Nick Pelensky, a sophomore in French 2.

Heads bobbed during the more recognizable melodies, including the "Toreador" song performed by most of the 70-member chorus and Escamillo the matador, played by baritone Christopher Holmes.

About halfway through the first act, a toddler dashed out of his seat and leaned over the railing to watch the 30-piece orchestra performing in the pit below the main floor of the ABT. His mom grabbed him before he fell onto the musicians. Unfazed, music conductor Andy Anderson kept his wand waving and his face smiling throughout the three-hour performance.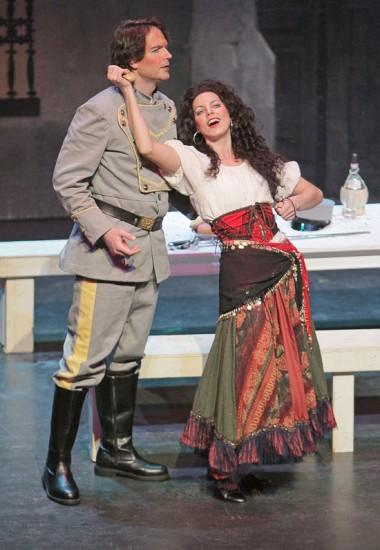 BOB ZELLAR/Gazette Staff
Jeffrey Grant Kitto, as Don Jose' and Heidi Rae, as Carmen sing a duet in Rimrock Opera Company's Carmen at the Alberta Bair Theatre.




BOB ZELLAR/Gazette Staff
Rimrock Opera Company's Carmen at the Alberta Bair Theatre.