Blodwen May 2019
View performance on YouTube

Synopsis
Opera 101 Classes
Dulais Rhys Conductor and Music Director for Blowden
Announcement From Wales
IPA libretto
Cast List
Dress Rehearsal Photographs
Billings Gazette Letter to the Editor- about Blodwen
Radio interview with Jeremy Huw Williams
Billings Gazette Blodwen article

Following the pattern of Romantic Italian opera, the story takes place in 14 th century Wales and includes a wedding, lovers, dying heroes and a dramatic final twist. The opera's stirring music shows Parry at his dramatic best: heroic and romantic solos, exciting ensembles, powerful choruses and of course, the famous 'Hywel a Blodwen' love duet which remains popular as a concert item and is considered one of the highlights of amateur performances of the opera.

BLODWEN BACKSTAGE: STUDY GUIDE
Three illustrated lectures on the history, content, and importance of Blodwen - the first Welsh opera.
Music: Dr. Joseph Parry (1841-1903)
Libretto: Richard Davies (1833-77)
New chamber version: Dulais Rhys (Blodwen Editor/Publisher and Guest Conductor)
Performances: May 10/11 and 18/19* at 7:30 P.M. (*2 P.M. matinée), NOVA (Roebling Theater)
---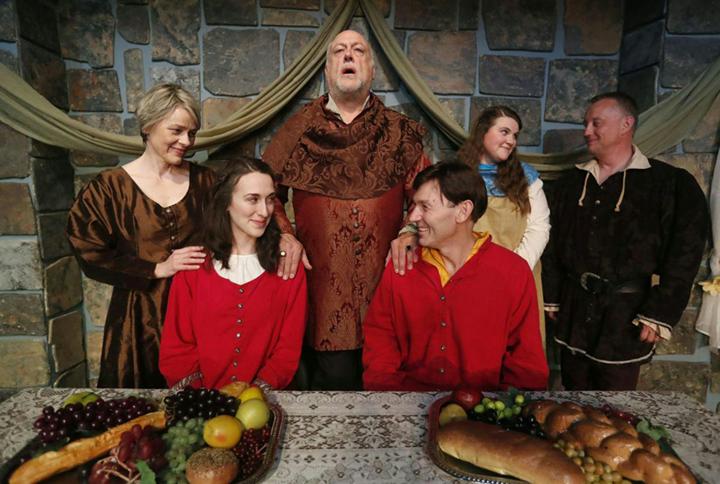 The cast of the opera Blodwen rehearses ahead of their first performance at NOVA Center For The Performing Arts in Billings.
Photo by BETHANY BAKER, Billings Gazette Click here for more photos
Cast List
Janie Sutton
--
Blodwen

Douglas Nagel
-- Iolo (The Bard)
Jeremy Huw Williams
--Arthur

Nerys Jones
-- Lady Maelor

Kate Meyer
-- Elen

Scott Wichael
-- Hywel Ddu

Kieran Beebe
-- Rhys Gwyn (father of Blodwen

Benjamin Meyer
-- Negesydd/Messenger

Kayla Marie Mudgett
-- Cover for Blodwen and Chrous Member

Aaron Walker Tenor
-- cover for Hywel Ddu
and
Comprimario roles
1. #1 Negesydd/Messenger (Baritone) 2'
2. #10 Mynach/Monk (Bass) 3'
3. #14 Blaenwr/Leader (Tenor)

Michelle Berger
- Production Assistant and Lady Maelor Cover

____________________________________________________

Osian Rhys --
Director

Richele Sitton
-- Orchestra Manager

Dr. Paula Fan --
Accompanist

Janie Sutton
,
Dulais Rhys
-- Co-Chorus Masters

Glenda Brauneis
-- Costumer
Dodie Rife
-- Stage Manager

Dress Rehearsal Photos from May 8, 2019

https://www.bbc.co.uk/cymrufyw/46832608 Translation - • January 13, 2019

For the first time in history a chamber version of Welsh Opera will be performed outside Wales in May this year.
The opera Blodwen by Joseph Parry, composed in 1877, will be performed in Billings, Montana in the United States.
Although a selection of the opera was performed in America over a century ago, this is the first time that this chamber version has been performed outside Wales.


A Welshman who now lives in Montana since 2018, Dulais Rhys, is the Opera Orchestra Conductor. "Since I moved to America I've been in contact with several opera companies asking if they are interested in staging and producing a Welsh opera. We did not have many positive reactions in America, but Rimrock Opera Foundation from Montana came back to say they wanted to produce Blodwen. The next step for me was to move from San Francisco where I have lived since 2011, to Montana."
Four performances from Blodwen will be at the NOVA Center, Montana in early May.
There are six main roles in the opera and two of the main singers can speak Welsh.
Jeremy Huw Williams from Cardiff will play the role of Arthur and Nerys Jones, who is now living in Seattle, will play the role of Lady Maelor.

These performances will complement the performers of the chorus who have learned Welsh songs.
Blodwen follows an Italian romantic opera pattern. The story is set in Wales during the 14th century and includes marriage, lovers, dead heroes and happiness at the end.

Dr Rhys added: "The linguistic exercises have been been a great deal of fun teaching the chorus and other leads Welsh. Supratulations [supertitles] will appear during the performance to help the audience with the words. I'm very pleased that the company's President, Lucinda Butler, has chosen to produce this opera. She has links with Wales after her daughter studied at Swansea University."

There will be four performances of Blodwen at the NOVA Center, Montana, between 10 and 19 May this year.
 		

 				

 		Announcement from Wales:




 			

Blodwen Conductor Dr. Dulais Rhys and Accompanist Dr. Paula Fan - Distinguished Musicians Receive Coveted Awards in Wales


Singers, pianists, conductors, composers and broadcasters will be amongst the musical glitterati celebrated for their commitment to enhancing Welsh culture at an illustrious awards ceremony in Cardiff, Wales on 2 June 2019.
The Welsh Music Guild will present eight coveted prizes at its annual awards luncheon held at the Cardiff & County Club before a packed audience of some of Wales' most influential and notable musicians.


Dr Dulais Rhys will be presented with the Joseph Parry Award and Dr Paula Fan will be presented with the Glanville Jones Award. President of the Guild Captain Sir Norman Lloyd-Edwards and Dr Jeremy Huw Williams will welcome the award winners to the County Club to honour the important work undertaken by them to further the development of Welsh music and musicians.


The Welsh Music Guild remains dedicated to its original purpose of advancing the education of the public by encouraging the understanding and appreciation of the music of Wales. The ceremony will celebrate a plethora of extraordinary talented individuals by recognising their massive contribution to the enhancement of Welsh culture and positioning on the world stage. Individually they have all become high achievers in their given fields and their tireless efforts should be deservedly recognised in this way.
Founded by John Edwards in 1955, the Welsh Music Guild has succeeded in promoting the careers and works of musicians by exerting a strong influence over broadcasting and recording companies, festival organisers and global musical bodies. The Guild continues to exert a positive influence on the Welsh music scene and has established partnerships with the School of Music at Cardiff University and with the Royal Welsh College of Music & Drama. It has also developed a close working relationship with both Composers of Wales and Ty Cerdd and is currently expanding its work by engaging in projects with both the BBC National Orchestra and Chorus of Wales and the National Youth Orchestra of Wales. www.welshmusicguild.wales


Founded by John Edwards in 1955, the Welsh Music Guild (formerly the Guild for the Promotion of Welsh Music) ultimately grew out of the Welsh Recorded Music Society, which was founded by him in 1948. One of the first acts of the Welsh Recorded Music Society was, in 1949, to pay for the recording of nine records of works by Welsh composers. The Guild's first commission was to Alun Hoddinott to compose his First Symphony, which was premiered at the 1955 National Eisteddfod at Pwllhelli. This was followed, in 1956, by David Wynne's Symphony No. 2, which was performed by the London Symphony Orchestra at the Aberdare National Eisteddfod. Between 1955 and 1974 the Welsh Music Guild held annual congresses, which consisted of concerts, talks and seminars. These provided a platform for much new music by Welsh composers as well as introducing music from overseas to Wales. In 1970, Sir Geraint Evans took over as President and his ardent support maintained the momentum built up under John Edwards's stewardship. Since 1960, the Guild has produced the bilingual magazine Welsh Music / Cerddoriaeth Cymru, the only independent publication devoted to the full spectrum of music in Wales, both past and present.