masks Are Required during performances for audience members. Wearing a mask protects our actors and staff. Masks are for your safety and everyone around you as well. We look forward to seeing you!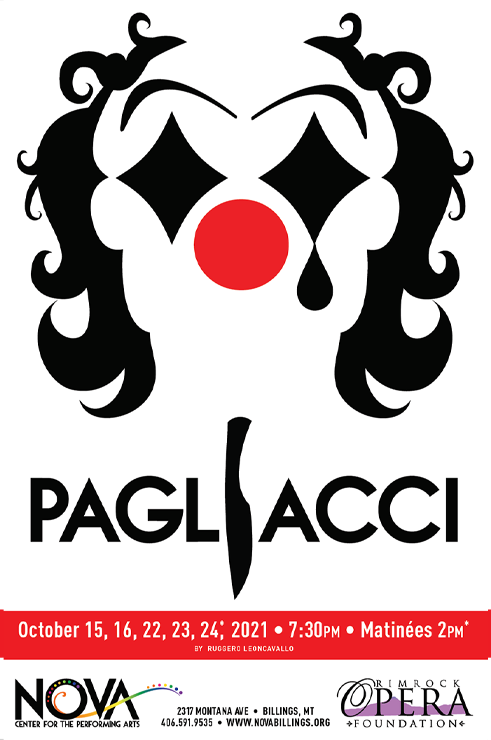 Poster Design by Melanie Fabrizius
Show dates: October 15, 16, 22, 23, 24, 2021

Billings Gazette Review by Anna Paige
Ruggero Leoncavallo (1858-1919)
Pagliacci

The Clowns

Composed 1892
Libretto by the composer (in Italian)
Pagliacci will be sung in English with supertitles

Director - Michelle Berger
Stage manager - Karla Stricker
Accompanist - Sandi Rabas
Costumes - Glenda Brauneis
CAST
Canio - Conner Leavitt
Nedda - Mardi Byers
Tonio- Jan Michael Kliewer
Silvio - Scott Ballantine
Beppe- Janie Sutton
SYNOPSIS
Pagliacci is a dramatic tale of love and betrayal that revolves around a commedia del arte troupe.
Ruggero Leoncavallo's opera Pagliacci about fatal jealousies in a traveling troupe of actors was based on a real-life story: a case encountered by Leoncavallo's father, who was a police magistrate in Naples.
Canio and Nedda are married and are the lead characters in the troupe along with Tonio and Beppe. Nedda is secretly having an affair with Silvio, a villager. Pagliacci is a story of unrequited love and passion, twisted agony, and murderous jealousy.