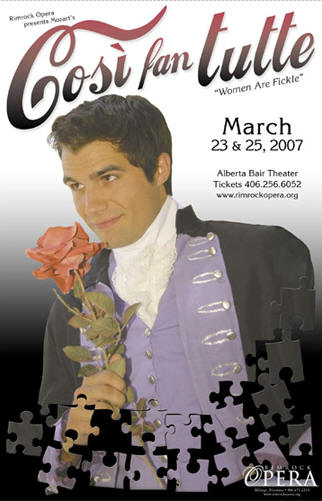 Poster Design by Melanie Fabrizius -- Graphic Designer Billings Gazette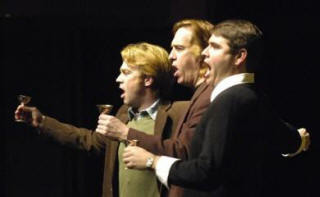 Photo: LARRY MAYER/Gazette Staff

Performers in the current Rimrock Opera "Cosi" sing for students in Amy Logan's chorus class at Skyview High School Wednesday afternoon. The opera singers are, from left, Curt Olds, Dennis Rupp and Adam Flowers. Performances are March 23 and 24 at the Alberta Bair Theater.

Laughter, music lift 'Cosi fan tutte'
JACI WEBB Of The Gazette Staff Mar 24, 2007

We don't usually associate opera with belly laughs, but that unique dichotomy of silliness and beautiful music makes Rimrock Opera Company's production of "Cosi fan tutte" soar.Billings soprano Lisa Lombardy, playing the role of Fiordiligi, is a marvel. The challenging vocal range of the part, paired with the need to ham it up as the target of a madcap prank, could have soured the performance of a lesser artist. But for Lombardy, who most recently played Musetta in a Helena production of "La boheme," it was a career highlight.

Billings Skyview vocal teacher Amy Logan was so much fun to watch Friday night as the cunning maid Despina that you almost forgot she had such an evil bent. She and her friend, Alfonso, played by opera stalwart Dennis Rupp, connive to lure Fiordiligi and her sister, Dorabella, played by Wyoming vocalist Diedra Walker, away from their lovers.

Logan's character dons the goofiest of disguises to carry out their plot, from an Albert Einstein lookalike doctor who treats patients with a huge magnet to a bumbling notary with a sideways mustache. Logan eases effortlessly among all three characters, showing off her fine soprano voice. Walker shows a penchant for character roles in her outstanding debut as main stage lead.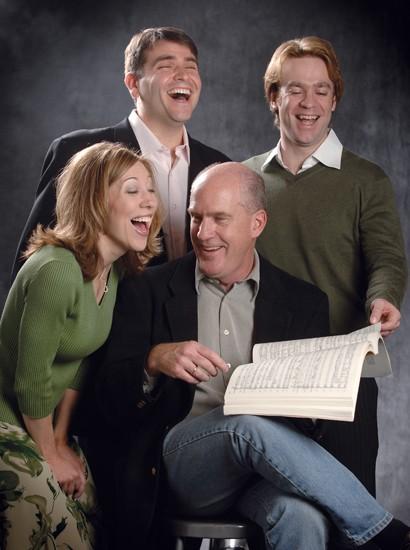 Photograph by Larry Mayer, Billings Gazette Staff

"Cosi fan tutte," one of Mozart's most popular operas, challenges the premise that women are fickle. Two men, convinced their lovers are faithful, take on a bet with Alfonso to prove their ladies are true. So, disguised as Albanians, they set out to woo each other's lady. They shouldn't have tried so hard.

Butte native Curt Olds plays one of the young men, Guglielmo, and Adam Flowers plays the other, Ferrando. Flowers' expressive face brought down the house just by raising an eyebrow, and his vocal range was incredible. Olds filled his role with cheeky charm and warm vocals. The two wore garish turbans with horns sticking out the front and huge handlebar mustaches.

Sung in Italian with English titles projected above the stage, the work was sprinkled with odd witticisms like this one from Guglielma, "Our mustaches could be called the triumph of manhood. Love's plume." One of the show's musical highlights had the two men trading jibes in a staccato duet in Act I.

A 28-piece symphonic orchestra, directed by Timm Rolek, was vital to the production, which was under the artistic direction of Billings native Doug Nagel.
Just more than 800 people took in the performance Friday night. Among them were first-time opera viewers Lisa Huertas and her son, Alec, who came to see Logan, Alec's former teacher.

"The harmonies were just fabulous and they were soaring on those notes," Huertas said.
Alec added, "I thought it was a blast!"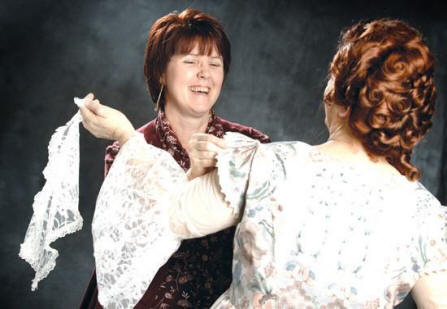 Photograph by Larry Mayer, Gazette Staff
---
Homegrown talents thrive in Rimrock Opera Company
Local performers joining international vocalists has become a mainstay of Rimrock Opera stagings
JACI WEBB Of The Gazette Staff Mar 15, 2007

In the second act of the Rimrock Opera Company's production of "Cosi fan tutte," a Butte native and a Lander, Wyo., veterinarian's assistant, croon the loveliest of Mozart duets.

It's a treat for opera fans because it's one of the sweetest moments in the opera and these two fine vocalists nailed every note in a rehearsal earlier this week. But what makes the scene even more amazing is something we've all come to expect from the ROC - its knack for showcasing international vocalists as well as local performers. And, in some instances, they are one in the same.

Baritone Curt Olds, who grew up in Butte, is playing Guglielmo, one of the leading roles in the Italian opera "Cosi fan tutte," which roughly translates to "Women are Fickle." He is one of the rare vocalists who successfully performs in both opera and stage musicals. He has toured with the New York City Opera and performed on Broadway in "Riverdance" during his career. Yet every time he prepares for a role, he said it's different because of the vocalists he is paired with.
"No matter what your experience level is, you have to find a balance," Olds said.
A bus-load of friends, family and opera fans will travel from Butte to see Olds perform next week at the Alberta Bair Theater.

"This is a good opera to see because Mozart achieves perfection in writing," Olds said.

Soprano Diedra Walker makes her stage debut as a leading lady in her role as Dorabella, the woman Guglielmo falls for in the second act. The two of them have some stage chemistry despite the fact that they met just days ago when they started full-cast rehearsals at West Park Plaza.
Walker, who works as a veterinary assistant in Lander, Wyo., has studied under her famous opera-singing father, John Walker. After being a guest soloist in last spring's ROC production of "Die Fledermaus," Walker landed a role in "The Night Harry Stopped Smoking," performing in more than 90 shows of the touring school production.

The entire cast has been rehearsing their music on their own - some, like Billings native Lisa Lombardy for 10 months - to prepare for this production. It's up to artistic director Douglas Nagel and music director and conductor Timm Rolek to find vocalists who not only fit the physical description of their roles, but who will sound good together.

Rolek, who has been involved in two previous ROC operas, said the duet shows the two are perfect together for their roles. And, he said, the music, specifically their duet, is some of the most beautiful ever written by Mozart.

"And the comedy in the music is just infectious," said Rolek, who is artistic director of the Sacramento Opera.

Nagel starts looking for vocalists sometimes years before they actually perform with the ROC. And, many times, as in the case of bass Dennis Rupp, who plays Don Alfonso, once they perform with the ROC in Billings, they keep coming back.

Rupp has performed in several ROC operas, including the world premiere of "Nosferatu."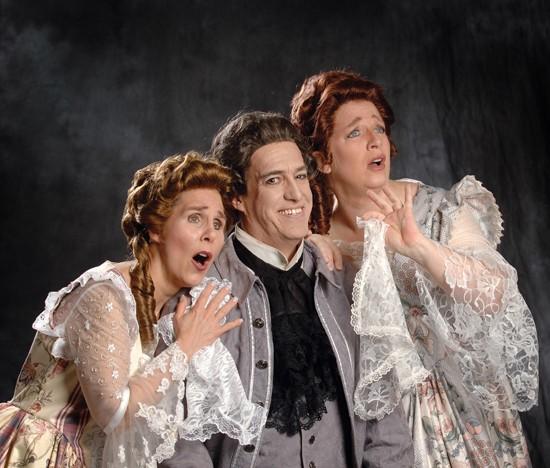 Photo by Larry Mayer, Billings Gazette, Staff.

"They asked me to come for 'Nosferatu,' now they can't get rid of me," Rupp said.
Tenor Adam Flowers is making his debut with the ROC as Ferrando, a role he performed six years ago with Opera San Jose. He said the role is challenging because of its high tenor notes, but once he's in it, it makes all the extra effort worthwhile.

Soprano Amy Logan, who teaches choir at Skyview High School and directs Rimrock Opera Chorus for Kids, plays the role of Despina, a cunning maid in "Cosi fan tutte." Logan first got involved with ROC in 2002, when she played clarinet in the orchestra, and is now making her main stage debut as a lead vocalist with ROC.

The camaraderie of the cast is half the fun of being in a big production, performers say.

"It's amazing coming together as a cast," Lombardy said. "We've all been working on our parts for so long, but separately. It's fun to see how it all comes together."
About the opera

"Cosi fan tutte,'' which translates to "Women are Fickle,'' was written by Wolfgang Amadeus Mozart and first performed Jan. 26, 1790, in Vienna. Sung in Italian, it will have English super titles above the stage when it is performed by the Rimrock Opera Company.

"Cosi" tells the story of an elderly cynic, Don Alfonso, who discusses women with two young officers Ferrando and Guglielmo. The two young men insist that their sweethearts are virtuous and they agree to accept Alfonso's wager that he can prove the ladies fickle if they do what he says for the next 24 hours.

The two sisters Fiordiligi and Dorabella revel in their love for the young officers, showing lockets with their pictures. But, as part of the scheme, Alfonso comes in with bad news — the men have been called to their regiment.
Meanwhile, the maid Despina offers the sisters advice about forgetting old lovers with the help of new ones. The sisters reject her advice and Dorabella becomes outraged. But it isn't long before the two officers, disguised as Albanians, arrive to woo the sisters, according to Alfonso's instructions. After a mock poisoning, the sisters' hearts start to open to the strangers.

Dennis Rupp, who plays Alfonso in the production, said highlights of the show include Lisa Lombardy's aria as Fiordiligi.

"It's a tour de force,'' Rupp said.

Other highlights include a duet between Dorabella, portrayed by Diedra Walker, and Guglielmo, portrayed by Curt Olds, in the second act, according to music director/conductor Timm Rolek.

"To me, the duet is some of the most beautiful music ever written,'' Rolek said.
The Cast for Così fan tutte (Women are Fickle)

Conductor (Directs the music of the opera)
Timm Rolek, Artistic Director of Sacramento Opera, CA

Director/Producer (Directs the action on the stage)
Douglas Nagel of Billings, MT

Fiordiligi (Soprano), Ladies of Ferrara and sisters living in Napoli
Lisa Lombardy of Billings, MT

Dorabella (Soprano),
Diedra Walker of Lander, WY

Guglielmo (Baritone), Officer, in love with Fiordiligi
Curt Olds, formerly of Montana, living in New York City

Ferrando (Tenor), Officer, in love with Dorabella
Adam Flowers of San Francisco, CA

Despina (Soprano), Chambermaid of the ladies
Amy Logan of Billings, MT

Don Alfonso (Bass), an old Philosopher
Dennis Rupp of Burbank, CA