Poster Design by Melanie Fabrizius -- Graphic Designer Billings Gazette

The Girl of the Golden West

Miners! Forty-niners! Highwaymen and heroines! The soaring melodies of Giacomo Puccini and the romantic realism of David Belasco, so successful in Madama Butterfly, are joined again in a love story set in the most exciting moments of the days of California Gold Fever.

The Cast for Girl of the Golden West

Paula Goodman-Wilder

Randolph Locke

Conductor (conducts the music of the opera)
Andy Anderson Music Director of the Kansas City Civic Orchestra

Director/Producer (Directs the action on the stage) Douglas Nagel of Billings, MT
Cultural, arts entities team for WestFest
The Gazette Staff | Posted: Thursday, May 31, 2007 11:00 pm
Golden WestFest: Billings Cultural Partners celebrates Western influence on arts and culture showcasing Billings' cultural community and rich Western heritage. Golden WestFest is a monthlong series of activities taking place Oct. 1-30, at various venues throughout Billings. The festival combines the presentation, performance and exhibit qualities of the 23 Cultural Partner members in a series of Western-themed cultural arts performances and exhibits and history-related exhibits and activities.

Key presenting partners to date include the Yellowstone Art Museum, Western Heritage Center, Billings Symphony Orchestra, Rimrock Opera Company, YMCA Writer's Voice, Parmly Billings Library, MSU-Billings, Moss Mansion, Yellowstone Public Radio, MetraPark and Yellowstone Chamber Players.

Events include the YAM exhibit, "A Western Icon: The Stories & Illustrations of Will James and Bronzes by his Friend Charles M. Russell," on display from Sept. 1 through Oct. 1; the Billings Artwalk on Oct. 5; a Yellowstone Chamber Players concert on Oct. 7; A presentation at the Western Heritage Center, "Harry Alonzo Longabaugh, the Sundance Kid in Montana," on Oct. 11; The Billings Symphony Orchestra & Chorale's performance, "The Glory and The Grandeur" on Oct. 13; The Nile Rodeo, Oct. 13-17; The Writer's Voice Fifth Annual BookFest, "The Spirit of Women," Oct. 18-20; and "Opera on the Avenue - Auction of Arias," presented by the Rimrock Opera on Oct. 20.

Golden WestFest concludes with Rimrock Opera's performance of Puccini's "Girl of the Golden West" on Oct. 26 and 28.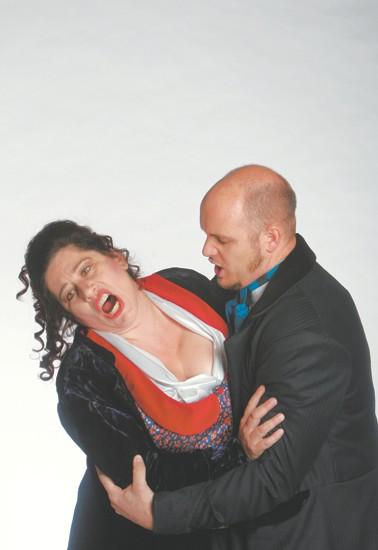 PAUL RUHTER/Gazette Staff
'Girl of the Golden West' took opera to new frontiers
JACI WEBB Of The Gazette Staff | Posted: Thursday, October 18, 2007 11:00 pm
Once you get past the irony of seeing a Western opera with gunslingers and poker games sung in Italian, "Girl of the Golden West" is a mighty force in the opera world.

In fact, Giacomo Puccini considered it his finest work. "The Girl of the Golden West" debuted in 1910 in New York City and was last staged in Billings in 1964 as part of the state's centennial festivities. The University of Montana (then Montana State) production toured Montana, stopping for shows in Miles City, Butte and Anaconda, among other towns.

The late Ed Harris played the role of Harry, one of the cowboys, and other Billings musicians, including Carol Critelli and J.R. Robertson, performed in the orchestra. Critelli, a longtime performer with the Billings Symphony Orchestra, is again playing cello with the orchestra in the Rimrock Opera Company production, which will be performed next week at the Alberta Bair Theater.
"Girl of the Golden West" features some of Puccini's most impressive music and a plotline right out of a John Wayne movie. As usual, ROC's general director Douglas Nagel handpicked the leads through connections he has made throughout the country during his lengthy career. Jason Detwiler, a baritone who plays Sheriff Jack Rance, performed under Nagel's direction in a recent production of "La Boheme" with Opera Idaho and Opera San Jose.

"Doug is a very positive influence in this business," Detwiler said.

In rehearsals earlier this week, Detwiler was practicing his sneer as a lawman who turns sinister. His rich baritone is a chilling reminder of his rage over losing his love to an outlaw.

"You can expect a lot of cold-heartedness and voracious energy from my character," Detwiler said.
The opera is set in California during the gold rush of 1849 and 1850. Minnie, played by soprano Paula Goodman-Wilder, runs a bar for the miners and becomes their spiritual leader as well as a mother to them. The scene where she reads Bible verses to the men lays out the opera's theme of redemption, said Goodman-Wilder, who has performed the role of Minnie in two other productions.
"One of my most precious moments is when I'm reading the Bible to the men and I get to sing all by myself. It's almost a Gregorian chant, without the orchestra."

The Bible verse is from the Book of David and discusses forgiveness and redemption. Later in the story, Minnie's love for the outlaw, Ramirez, helps him find redemption.

Ramirez, played by tenor Randolph Locke, is a hunted outlaw who disguises himself to escape capture. Eventually, though, he is discovered by Sheriff Rance. A gambling man, Rance can't resist a deal struck by Minnie for Ramirez's freedom. The two play a game of poker with the highest of stakes. If Minnie loses, she'll become Rance's wife and if Rance loses, Ramirez will go free.
It's perhaps the only opera where a poker game determines a man's fate and a strong, Western woman drives the action. Puccini seemed to favor setting his operas in exotic locations, including "Madama Butterfly" in Japan and "Turnadot" in ancient China. The Wild West is an exotic location, particularly to European and East Coast audiences.

Locke, who first met Nagel in 1990, said performing in "The Girl of the Golden West" is a rare opportunity in the opera world.

"I've done the opera before, but as Nick the bartender," Locke said. "It's not done that often, partially because it's difficult to cast because there are so many male roles."
Growing up in Texas aided Locke in getting into the cowboy role with the swagger and the gun scenes. A collection of period pistols has been loaned to the ROC to help with the authenticity of the production. Every cowboy in the production has a pistol and holster, and Minnie carries her own derringer in her corset.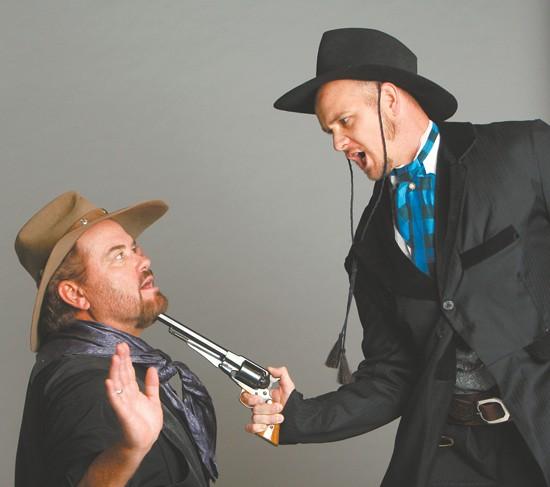 PAUL RUHTER/Gazette Staf
Randolph Locke, left, plays the outlaw Johnson, aka Ramirez, while Jason Detwiler plays Sheriff Jack Rance in "The Girl of the Golden West."



Stage director Doug Nagel and conductor Andy Anderson go over the book for the opera "The Girl of the Golden West."
After 4 decades, cellist Critelli returns to 'Golden West' for ROC performance
JACI WEBB Of The Gazette Staff | Posted: Thursday, October 18, 2007 11:00 pm
It's been more than four decades since Billings cellist Carol Critelli performed in "The Girl of the Golden West," but she'll never forget the plot-changing trickle of blood during one scene.

A young faculty member with the University of Montana (then called Montana State University), Critelli toured with the rest of the cast around the state to perform Puccini's opera. She said the music felt new to her when she started rehearsing it this time around because it had been so many years since she performed it. But she never forgot the drama and the blood.

"I remember there was an outlaw hiding in the rafters and they were looking for him and he almost got away, but a drop of blood fell on the sheriff's hand," Critelli said.
Critelli grew up in Billings, performing with the Billings Symphony Orchestra the year it was formed in 1955, when she was a high school student. She moved back to Billings in 1964, just in time to get a spot in the pit orchestra for "The Girl of the Golden West." Since the orchestra plays in a pit below the stage, the audience never sees the musicians and the musicians don't get to see the opera. That's OK with Critelli, who said Puccini's music doesn't need visuals to be beautiful.

"I do like playing with the opera," Critelli said. "I just love the music. Even though we don't get any glory, it's just beautiful to hear."

J.R. Robertson, who plays trombone in the BSO, was also in that 1964 pit orchestra, but he isn't performing with the orchestra for this opera. Andy Anderson, artistic director of the Civic Opera Theater of Kansas City, is musical director.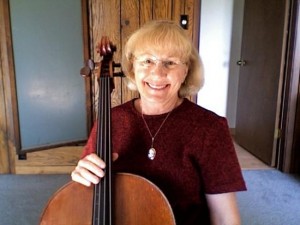 JACI WEBB/Gazette Staff
Carol Critelli will be in the orchestra pit at ABT when Rimrock Opera stages "The Girl of the Golden West" Oct. 26 and 28. Critelli last performed the Puccini opera in 1964.
Letter: Local arts support speaks well of community
Posted: Sunday, October 21, 2007 11:00 pm
Within days of my arrival in Billings as a guest artist with Rimrock Opera, I saw quickly how so many have shown support for this company and their upcoming season. From posters, postcards, a Gazette photo shoot, even seeing a TV commercial about the opera company, I was immediately impressed by the support this community has shown its native company. It didn't seem a seasonal fad either - i.e. because a show was up and coming. When I leafed through my welcome packet, I discovered a "Welcome to Billings" brochure created by the city for this year's visitors. Not only was the opera mentioned, but it was highlighted with a full page. To their credit, other arts organizations were given space as well, but this only points out how highly the performing arts are regarded in this corner of "Big Sky Country."

It should also not go without saying that the donations and in-kind gifts of regular businesses and good people here have spurred on great things for Rimrock Opera's future and made our short stay here a wonderful one thus far. As a cast member of the upcoming production "The Girl of the Golden West" and as a professional opera singer, it is greatly encouraging to see a city in love with opera!
Jason Detwiler
Boise, Idaho
Rimrock's 'Girl' packs a pistol
JACI WEBB Of The Gazette Staff | Posted: Thursday, October 25, 2007 11:00 pm
Amid all the whiskey-swilling, poker-playing, gun-firing excitement in Rimrock Opera Company's newest production is Minnie, "The Girl of the Golden West."

She's the mother you wish you had, the lover you never had and the biggest-hearted friend you'd be lucky to have.

Several hundred local students got a chance to meet Minnie at the Alberta Bair Theater in a preview show Thursday morning. As Minnie, soprano Paula Goodman Wilder nailed a few heart-stopping scenes as a woman set to save an outlaw, played by tenor Randolph Locke. When Sheriff Jack Rance, played with a booming baritone and sinister demeanor by Jason Detwiler, offers to pay her $1,000 for a kiss in the first act, Minnie pulls a derringer from her corset. Then she shines it inches from his nose.
Students came from Red Lodge, Roberts, Billings, Laurel, and Cody, Wyo., to watch the Puccini opera. For some, like Moriah Greathouse, it was a first look at a live opera, and they were surprised by how much they liked it.

"Everything is very, very dramatic," said Greathouse, a Red Lodge High School freshman. "I probably wouldn't want to sing in an opera because I don't have the voice, but I'd like to do the set design. That'd be really cool."

Trever Birdsley, a sophomore at Roberts High School, said he's seen two opera performances, but he was still a bit shocked at the Western flavor of this one.
"I thought it was going to be more like medieval," Birdsley said.

Set during the California gold rush of 1849 and 1850, the three-act opera addresses themes of loneliness, forgiveness and redemption. The Rimrock Opera Company production, directed by Douglas Nagel, features vintage pistols and rifles and a set decorated with a longhorn steer skull and an enormous cast-iron skillet. Because many members of Thursday's preview audience are from ranching and farming communities, they looked for authenticity in the costumes and staging, but not so much in the music, as it is sung in Italian and was written by an Italian composer.

"I think it's better in its natural language," said Red Lodge senior Logan LaCross, a first-time opera viewer. "I'm glad they didn't attempt to change it. You can tell by the actions of the singers what's going on, and then you've got the text above the stage."
LaCross said his favorite character in the opera is the bartender Nick, who is played by Gennard Lombardozzi, of Billings.

"The way he moves and interacts on stage is very realistic," said LaCross, who competes in serious duo on his school drama team.

Red Lodge High School drama coach and teacher Jennifer Collins said students watched a video of another Puccini opera, "Madama Butterfly," and studied the script from "The Girl of the Golden West" to prepare for the performance Thursday.
"It's wonderful to see it live; that's what it's meant for."
<![if !supportLineBreakNewLine]>
<![endif]>
ROC makes leap with set design
JACI WEBB Of The Gazette Staff | Posted: Thursday, October 25, 2007 11:00 pm
A 24-inch cast iron fry pan propped open the alley door of the Alberta Bair Theater earlier this week, signifying that perhaps the new Rimrock Opera Company production would be a bit different.

Inside, set designer Jean Francois Revon was putting the final touches to the complex set for "The Girl of the Golden West," ingeniously built so that it can be used for the spring production of "Elixir of Love."

ROC general director Douglas Nagel was beaming from the sidelines. Hiring a designer and constructing a new set is a bold move for ROC. In previous productions, the Billings-based opera company rented sets. But with the idea of frugality, they opted to design their own this time so that it can be re-used.

"This saves the company more than $20,000," Revon said.

Revon, who has designed more than 100 sets and worked on more than 250 stage productions, said he enjoyed the challenge of creating a re-usable set. The wood-plank walls can be removed and the lighter-hued set for "Elixir of Love" is underneath. The stairs to the second-floor balcony were built so that they fit the action in "The Girl of the Golden West" and "Elixir of Love."

Revon, a native of France who now lives and works in San Francisco, is working closely with lighting director Alex Heyneman, who joined ROC three years ago and is working on his seventh opera.

Revon and Heyneman both prepared for their work by listening to the music from "The Girl of the Golden West," but they were each looking for different things. Revon listened for the drama that the music conveys to imagine how the performers will move around the stage, while Heyneman listened for its flow to get an idea of what kind of lighting to use to set the mood.

Heyneman said that's the beauty of working in opera - putting all the pieces together.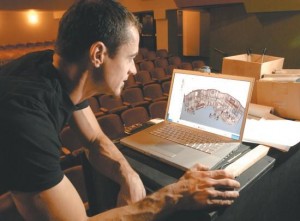 JAMES WOODCOCK/Gazette Staff
Set designer Jean Francois Revon looks at a computer generated model for the set for "The Girl of the Golden West."
<![if !supportLineBreakNewLine]>
<![endif]>
Letter: Opera helps make Billings great city
Gazette News Services | Posted: Tuesday, November 6, 2007 11:00 pm

Rimrock Opera's "The Girl of the Golden West" the last weekend in October topped off Billings' first Golden WestFest.

Rimrock Opera is proud to be among the Billings Cultural Partners. Members gathered for a pre-opera reception Sunday to celebrate the successful Golden WestFest, during which BCP collaborated on visual, historical and performance events around the Old West theme throughout October.

Quality productions pledged by Rimrock Opera are expensive, with little of the cost covered by ticket revenue. We gratefully acknowledge the businesses, foundations and individual donors who make up the difference with monetary and in-kind support of all sort, to maintain the magic of opera and undergird all the arts, keeping the rich cultural life of this community diverse and engaging. The passion of people like these ensures that Billings continues to stand tall among the great cities of the West. Thank you.

The public is invited to Rimrock Opera Chorus for Kids (ROCK) holiday concert on Dec. 8 at 7 p.m. at Skyview High School, showcasing 75 singers in grades 1-12. Rimrock Opera looks forward to its spring 2008 production of Donizetti's "The Elixir of Love" and spring fundraiser, OperaFest.
Gail Hein
Rimrock Opera Company
Billings
©2000-2006 Rimrock Opera Company. All rights reserved