La Bohème
Giacomo Puccini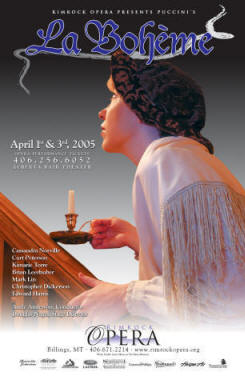 April 1 and 3, 2005

Synopsis
Giacomo Puccini 's beloved masterpiece of cold hands, warm hearts, and empty pockets -- sets the poet Rodolpho and the fragile Mimi in the garrets of Paris and the raucous streets of the Latin Quarter. Amidst the revelry, the lovers and their artist friends, Colline the philosopher, Schaunard the musician, Marcello the painter and his fiery girlfriend Musetta, charge headlong into a series of tragic trysts and romantic misadventures.

Some of the most cherished melodies in all of opera, poignant and touching moments of heartfelt emotion, true love and ultimate loss, are yours to wrap your heart around. It is said that when Puccini penned the final notes which accompany Mimi's tragic death in La Bohhme, he wept copiously. Audiences forever after have been doing the same thing. Let the music and the sheer, human helplessness of the characters carry the day; but be warned, Rimrock Opera's La Bohme is a three-handkerchief show!
| | |
| --- | --- |
| Casting | Photo by LARRY MAYER / Gazette Staff Mark Lin, Christopher Dickerson and Maestro Andy Anderson, from left, practice during a rehearsal for Puccinis 'La Bohème.' |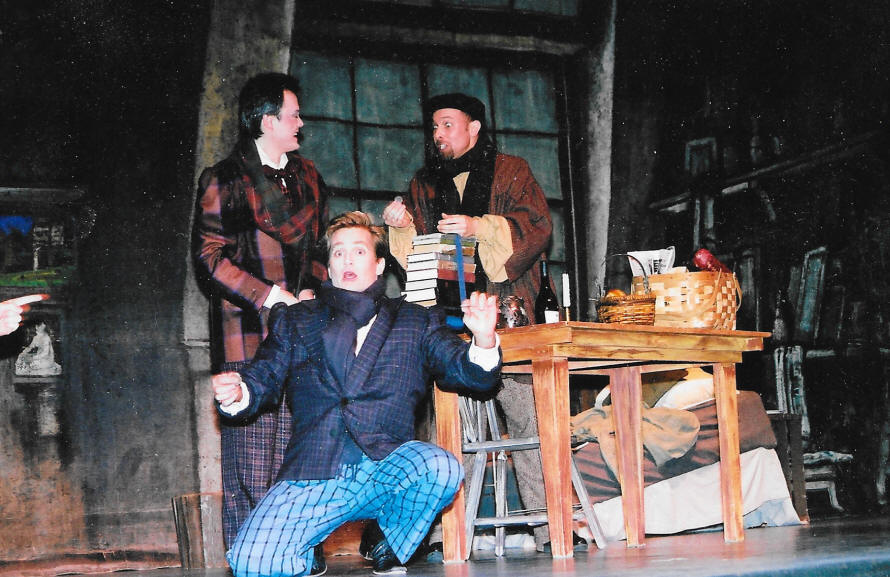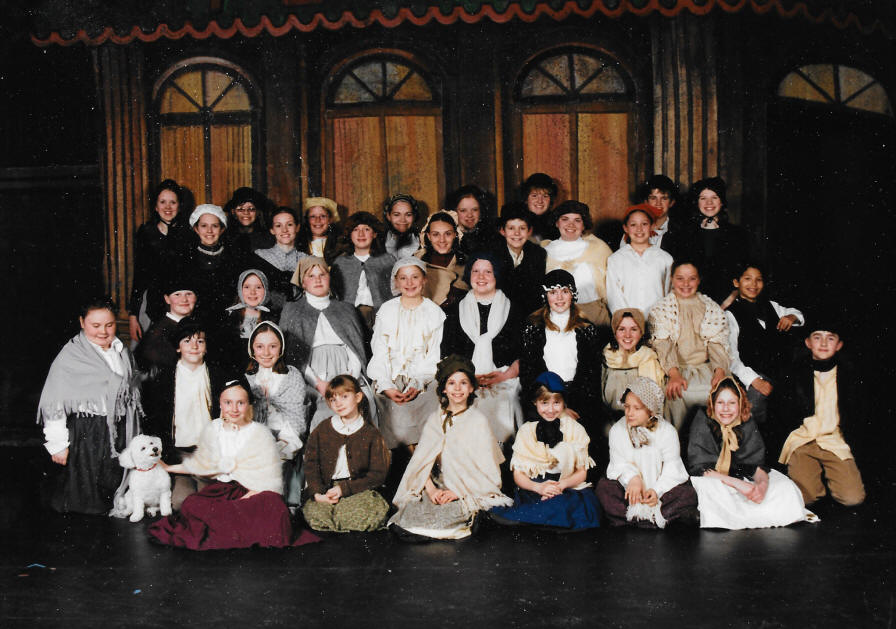 Rimrock Opera Chorus Kids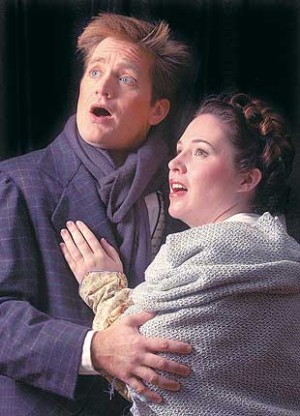 Photo by LARRY MAYER / Gazette Staff
'La Bohème' follows the story of the gentle seamstress Mimi, played by soprano Cassandra Norville, a 1998 Skyview High School graduate, and the poet Roldolfo, played by Wyoming native Curt Peterson. Artistic director Doug Nagel, a Billings native, said he chose vocalists with ties to this region to play the lead roles to drive home the idea that Rimrock Opera Company is a community-based enterprise. 'This is one of the most highly coveted roles in opera and to perform it here in Billings is the icing on the cake," Norville said of playing Mimi.
La Bohème: Extraordinary passion found in Rimrock Opera's production
Posted: Thursday, March 31, 2005 11:00 pm
Jaci Webb WEEKLY WEBB
Rimrock Opera Company artistic director Douglas Nagel told a group of opera students not to wait for the fat lady to sing in "La Bohème."

"A lot of people think opera is about old people; it's not over 'til the fat lady sings. That's not 'La Bohème.' It's about young people and that's why it works."

Forty-nine people, ranging in age from teenagers to seniors, took Opera 101 through Billings Community Education and were rewarded during a recent class when the four leads from "La Bohème" performed a scene. Translation sheets were handed out, but most sat unread on laps as the scene unfolded with Cassandra Norville's amazing soprano and Brian Leerhuber's animated humor as the painter Marcello.

The class drew returnees from previous opera sessions as well as first-timers looking for insight into one of the most beloved operas of all time. Sung in Italian with projected translations during ABT performances, which start tonight, the opera follows the story of the gentle seamstress Mimi, played by Norville, a Skyview High School graduate, and the poet Roldolfo, played by Wyoming native Curt Peterson.

Some comic moments help lighten the story of the starving bohemians who befriend Mimi, but by the final act, Nagel promises that there won't be a dry eye in the theater. In fact, one of the mementos that will be sold in the lobby during the performance is an embroidered handkerchief ready to be autographed by performers.

The opera does not have the grandeur of Wagner or the nobility of Verdi, but is about ordinary people living ordinary lives. "La Bohème" has become its own genre, a tender love story revealing how true love may briefly resist the harshness of life but cannot fully withstand it. It is perennially in the top three favorites among opera fans and the Broadway musical "Rent" was based on the story, which is similar to Puccini's own early struggles with poverty.

Nagel, a Billings native, said he purposefully chose vocalists with ties to this region to play the lead roles to drive home the idea that Rimrock Opera Company is a community-based enterprise.

"I look for people who fit the part, who can convey the story with their body language as well as their voices," Nagel said. "They have to have off-stage personality as well because that is important."

Norville, who was in the first graduation class at Skyview in 1988, has been studying her role for a year, commuting from her home in Phoenix to Boston for voice lessons with Patricia Craig, who has performed the role of Mimi many times.
"This is one of the most highly coveted roles in opera and to perform it here in Billings is the icing on the cake," Norville said.

To perform opera, vocalists study languages, particularly Italian and German, so they understand what they are singing and can vocalize it with passion. And the current push is for opera singers to be actors as well. Leerhuber, who plays the artist Marcello in "La Bohème," said acting enhances rather than detracts from the music.

"Audiences expect there to be more acting because they've grown up on TV," Leerhuber said.

Kimarie Torre, who plays Musetta, grew up in California and was a cheerleader in high school who sang jazz and worked as a stockbroker before turning to opera. She said she originally saw herself as Mimi, but has grown into her role as the fun-loving tease.
Nagel said that although cast members have been rehearsing for the last month, he doesn't require full-voice rehearsals until the final days to save their voices.

"In our business, you get sick and that's it," Nagel said. "You can work at a dry cleaners if you're sick, but when you do this, you can't perform."

Conductor Andy Anderson has conducted 20 performances of "La Bohème" and has conducted 11 of the 12 operas Puccini wrote.

"I always approach it as if I've never done it before," Anderson said. "I always look for something new."

The rest of the cast includes Christopher Dickerson as Colline the philosopher, Mark Lin as the musician Schaunard, Dennis Rupp as the landlord Benoit, Cody Maki as the toy salesman Parpignol, and Dennis Rupp as Alcindoro. Members of the Rimrock Opera Chorus for Kids will also perform.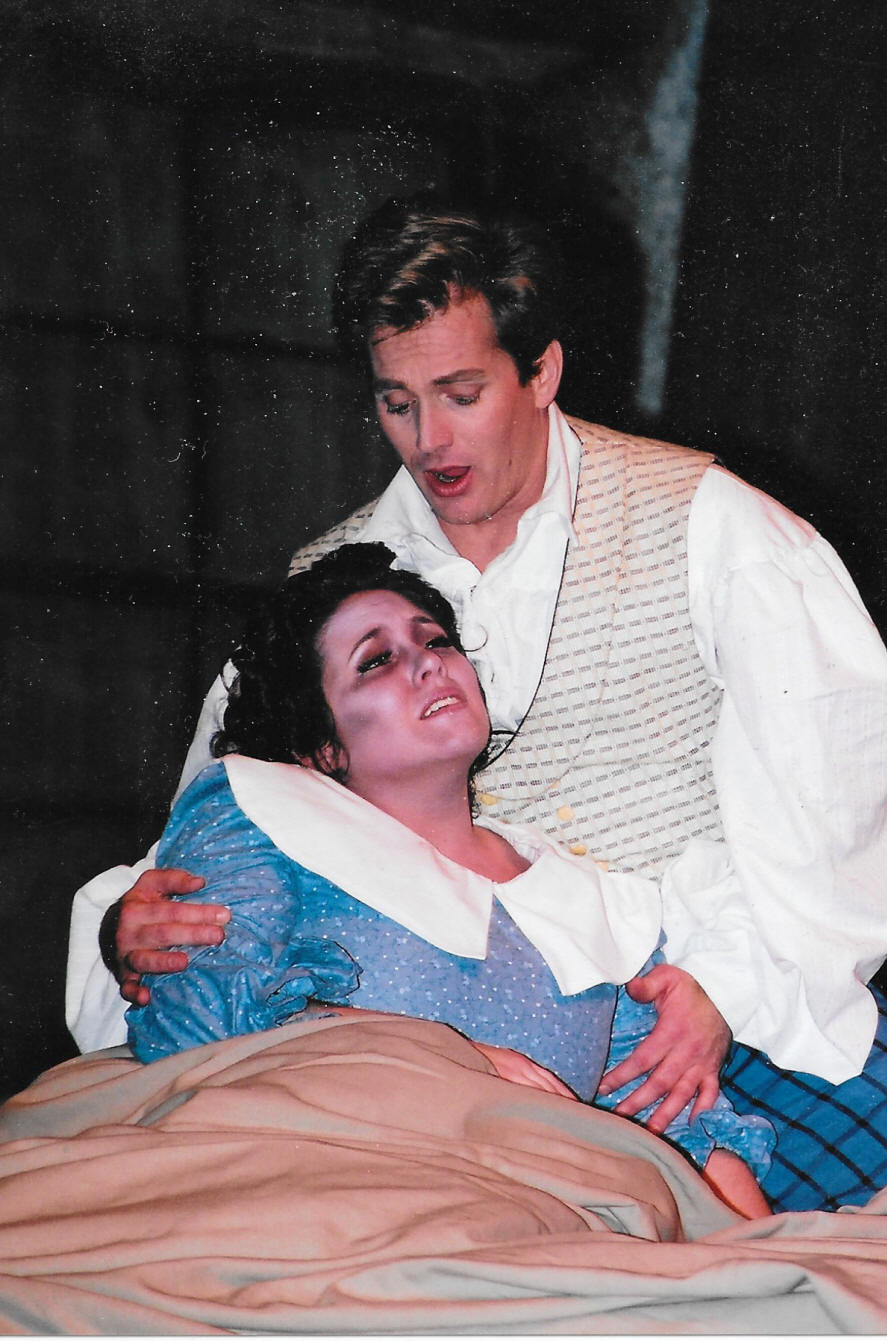 Photo by LARRY MAYER / Gazette Staff

'La Bohème' filled with emotions
JACI WEBB Of The Gazette Staff | Posted: Saturday, April 2, 2005 11:00 pm
When Marcello and Rodolfo sniff the leftovers from their departed lovers - a scarf and bonnet - in "La Bohème," it's as if they're bidding their youth goodbye. And even if you've never been a starving bohemian in Paris, you know how they feel.

This scene in the final act of the Rimrock Opera Company's production slices across generations and economic levels as it pulls at our hearts. Although it's a comedic scene, it is the soul of Giacomo Puccini's poignant opera.
Audience gets vocal
An opening-night crowd of 950 people, including a busload of choir students from Havre High School, took in the performance Friday night at the Alberta Bair Theater. A tentative audience early on, they became more vocal - especially the balcony crowd - when the stage erupted with the voices of 35 children from the Rimrock Opera Chorus for Kids in the second act.

Rimrock Opera Executive Director John Baber said first-time opera-goers are often nervous about voicing their feelings about the show.

"Opera is an audience participation event; that's the fun part," Baber said. "That's why we tell them about shouting 'bravo' when they enjoy a man's performance and 'brava' for a woman's performance."

The production, sung in Italian as it was written, projects the English translation at the top of the stage. While you don't need the translation to catch the action in the scenes, it allows you to catch the humor in the dialog. Looking up at the projected words too much, however, distracts from what the actors are doing on stage. Artistic Director Douglas Nagel did a fine job selecting only portions of the lyrics to project to keep it simple. The production, which includes a 29-piece pit orchestra, is conducted by Andy Anderson, director of Civic Opera Theater of Kansas City.
Well-cast roles
Set among the sidewalk cafes of Paris' Latin Quarter, Act II's opening scene is exciting to watch with more than 50 vocalists on stage fronted by the four leads. The set in the scene was incredibly realistic, as were sets throughout the production. Musetta, played by soprano Kimarie Torre, steals the scene with her flamboyant diva antics, ditching her elderly suitor to return to the starving artist Marcello, played by baritone Brian Leerhuber. His expressive eyes and exaggerated ire is a fine match for Musetta's fiery temperament, and the two are well cast in their roles.

Later in the opera, Marcello talks to Rodolfo about the difference between the two friends' relationships with women. "It's easy for us because we love each other light-heartedly" while Rodolfo and Mimi struggle with their smothering love for each other.
Led by Amy Logan, some of the kids who appear in "La Bohème" are already veteran opera performers, including 11-year-old Colleen Powers, who said she preferred "La Bohème" to her first opera, "Hansel and Gretel."

"There is more action and humor in this one," Powers said Friday night.
First-timers to the opera, including the 35 Havre teenagers, said their initial taste of opera Friday night wasn't quite what they expected. Liz Handy, 17, said there was more acting in the production, which she imagined would have only music.

"I liked the second scene where Mimi and Rodolfo fall in love," Handy said.
The famous scene, where Mimi's candle goes out and she goes to Rodolfo to relight it, sets up the love affair between the seamstress Mimi, played by soprano Cassandra Norville, a Billings native, and Rodolfo, played by tenor Curt Peterson, a Wyoming native. Although the two don't have the chemistry of Musetta and Marcello, their arias and poetic duets create some of the finer moments in the production.

Their heartache is nicely tempered by the humor in the scenes with the four bohemians, which include baritone Mark Lin as the musician Schaunard, and Colline the philosopher, played by bass Christopher Dickerson.

Talia Malone, a 16-year-old from Havre, said she appreciated all the hard work that went into the music, but what she loved most was the production's comedy.
"I liked it at the beginning when all the men were joking around," Malone said.

Chorus master Edward Harris was presented a special award Friday night when Nagel announced Harris' retirement from Rimrock Opera. Harris has performed in several Billings operas, including his memorable role as Baron Zeta in "The Merry Widow." He received the first of three standing ovations - the second and third were for the "La Bohème" cast - during the performance Friday night.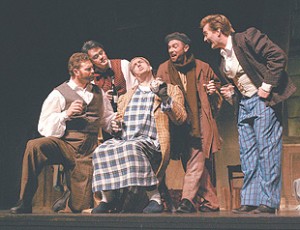 DAVID GRUBBS/Gazette Staff
Benoit the Landlord, played by Dennis Rupp, center, enjoys a drink with his renters: Colline, played by Christopher Dickerson; Schaunard, played by Mark Lin; Marcello, played by Brian Leerhuber; and Rodolfo, played by Curt Peterson in Rimrock Opera's "La Bohème" at the Alberta Bair Theater.
<![if !supportLineBreakNewLine]>
<![endif]>
---
Saturday, April 9, 2005
Many helped make 'La Bohème' possible

Bravo with applause is sent to the patrons, donors, volunteers and cast of "La Bohème," the recent production by Rimrock Opera. Without community and regional support, this fabulous opera would not have been possible.

Earlier in March, Rimrock Opera hosted the annual OperaFest dinner and auction. Numerous sponsors, donors and volunteers made this event the "best ever." Included in the live auction items at OperaFest were a grand piano from All About Pianos, fabulous jewelry items from Montague's Jewelry, gourmet dinners (provided by Enzo chef Laurent Zirotti) including live entertainment from opera stars, a wine tasting event at City Vineyard and a photo safari in South Africa. Attendees at this yearly party were thrilled with the musical entertainment along with the excitement of the auction. Again, Rimrock Opera wishes to thank all the donors and sponsors.

The "La Bohème" cast was headlined by two national and international singers with roots in Montana and Wyoming. Cassandra Norville, who played the lead part of Mimi, graduated from Skyview High School in Billings; Curt Peterson, from Cowley, Wyo., sang the part of Rodolfo. The Alberta Bair Theater was filled for both performances with patrons from near and far - including a group of 35 students from Havre who attended the Friday night show.

Rimrock Opera wishes to thank all of the corporate sponsors and individual contributors that have supported the production of this opera and all of our previous endeavors.
Steven A. Butler, vice president Rimrock Opera Board Billings
©2000-2011 Rimrock Opera Company. All rights reserved