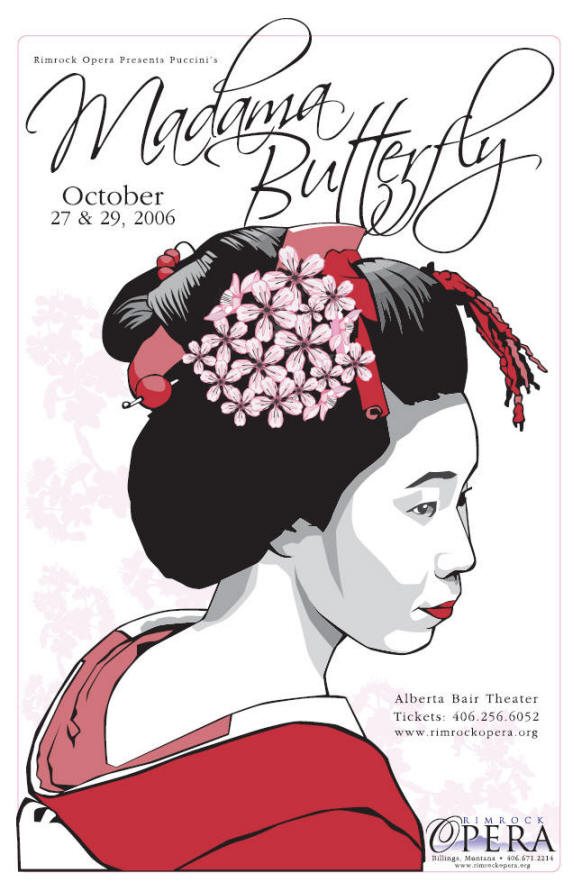 Poster Design by Melanie Fabrizius - Graphic Designer Billings Gazette

Synopsis
Primary Sponsor: Henrietta Johnstone

'Madama Butterfly'
JACI WEBB Of The Gazette Staff | Posted: Thursday, October 19, 2006 11:00 pm
Eilana Lappalainen says it feels good to become someone else, even if it's a 15-year-old girl smitten with a cad.

In this case, the teenager girl is Cio-Cio San (Madama Butterfly), a character in the famous Giacomo Puccini opera who vocalizes her sorrow in some of the most beautiful music ever performed. As tragedies go, this one is fairly simple. An American Naval officer, Capt. Pinkerton, falls for Butterfly, not out of love, but out of lust and conquest. Infatuated with the young geisha, attracted by her naiveté as well as her beauty, he sets out to win her. "I must pursue her even though I damage her wings," is his philosophy of courtship.

After giving birth to their child, she waits three years for his return, only to find that he doesn't want her anymore. She is devastated by the news and commits hara kiri.

Lappalainen said she's lost count of how many times she's performed the lead in "Madama Butterfly." She has performed the role in several countries, from Germany to Greece, and in Mexico, the U.S. and Canada.

"My international debut was 'Butterfly' in Mexico City at the beautiful opera house there," she said. "Sometimes I've had performances where there is silence after the aria. And that makes me happy. For that audience, it was more than just a show, it's believing in what's happening on stage."
Rimrock Opera artistic director Douglas Nagel said Lappalainen is one of the few sopranos he knows who can perform the grueling part with the ease that Lappalainen can.

"You need someone with cords of steel for this role," Nagel said. "I never even think about whether Eilana can handle this because she's such a pro."

Lappalainen said she often immerses herself so completely in her roles that it's difficult to climb back into just being Eilana.

"I love the roles where you have to give everything you have. Butterfly goes through such transitions. I love roles like this where someone gets to die, the psychological stresses of it."
Lappalainen will perform at Carnegie Hall in January.

Capt. Pinkerton, the dashing Navy officer who deceives Butterfly, is played by Christopher Bengochea, who was raised in Brockton. Bengochea said he's not used to playing such a despicable character. He's more used to playing the good guy, like his role as Rodolfo in "La Boheme."
Capt. Pinkerton is a large role for the tenor, who is ecstatic about performing with someone of the stature of Lappalainen. Bengochea is a member of the resident company of Opera San Jose, where Lappalainen got her start, and will perform the title role in "Romeo et Juliette" this season with that company.

"I'm a sheepherder's son from Brockton. I didn't think I'd ever do something like this," Bengochea said.

He started his music career as a pianist, but was smitten with the opera bug after seeing a Pavarotti performance. While earning his degree in piano performance at Montana State University, studying on a Future Farmers of America scholarship, a college professor involved in opera took him under his wing.

"What other art form allows you to get up and act like an idiot, fall in love on stage and exude all of your emotions? This is the perfect job," Bengochea said.

Maestro Anthony Quartuccio, assistant director conductor of the San Jose Chamber Orchestra, is musical director and Nagel serves as producer and stage director.

Also performing in "Madama Butterfly" are baritone Jan Michael Kliewer, of Powell, Wyo., who appears as Sharpless, the American Consul who sees the reality of Butterfly's plight and the futility of intervention. Kliewer last performed in Rimrock Opera in 2005 as Giorgio Germont in "La Traviata." Kilewer teaches music and opera at Northwest College in Powell and is an active soloist in concert and opera.

Soprano Laura Twelves sings the role of Suzuki, Butterfly's companion and maid. Twelves appeared in Rimrock Opera's school tour production of "The Night Harry Stopped Smoking" and currently serves as Rimrock Opera's outreach tour director. She is also a guest artist with Opera San Jose for the 2006-07 season.

Gennard Lombardozzi, Dennis Rupp and Bret Weston also appear in the production. Kevin Schweigert and Amy Logan head up the adult chorus.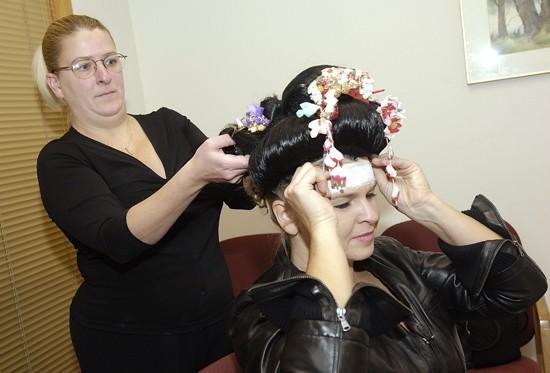 David Grubbs/Gazette Staff
Make-up artist Sophia Smith places a human-hair wig on Eilana Lappalainen.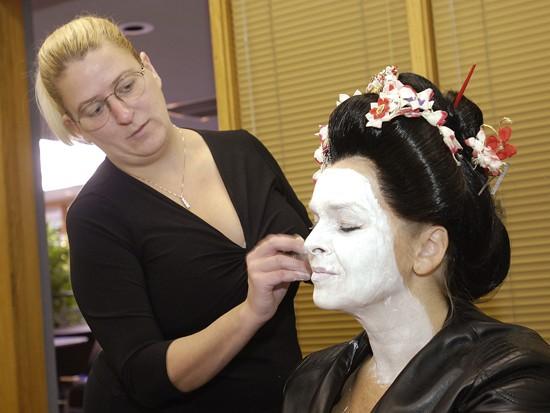 David Grubbs/Gazette Staff
A make-up artist applies Lappalainen's geisha makeup in preparation for a photo shoot for "Madama Butterfly." Lappalainen is playing the title role in the Rimrock Opera production next week at the Alberta Bair Theater.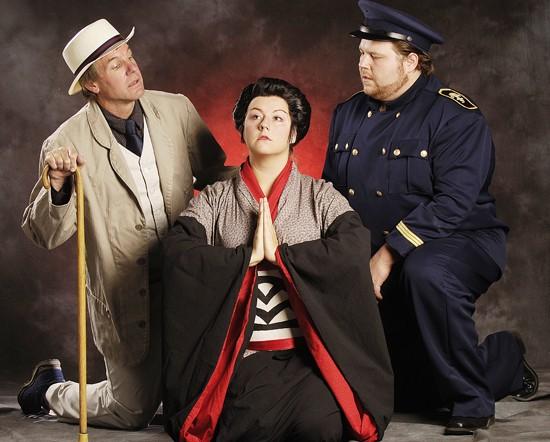 DAVID GRUBBS/Gazette Staff
From left, Jan Michael Kliewer, Laura Twelves and Christopher Bengochea in "Madama Butterfly."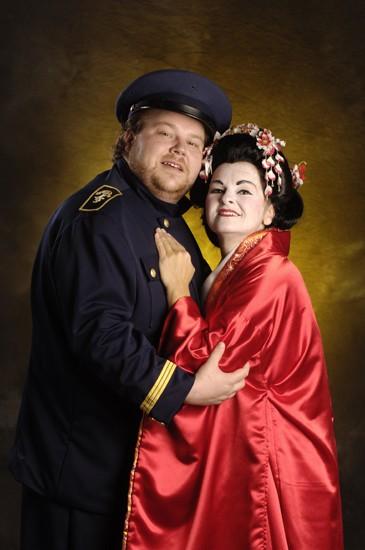 David Grubbs/Gazette Staff
Christopher Bengochea, left and Eilana Lappalainen in Madam Butterfly.


Performances give 'Butterfly' flight

Jaci Webb Of The Gazette Staff | Posted: Sunday, October 29, 2006 12:00 am
A tiny American flag stuffed into a pot of traditional Japanese cherry blossoms epitomizes the clash of two cultures in Rimrock Opera Company's production of Puccini's "Madama Butterfly."

That basic conflict exists in every aspect of this story of two lovers, in their ideas about love, marriage, religion, family, and ultimately death. In the opening night performance Friday at the Alberta Bair Theater, leads Christopher Bengochea as Lt. Pinkerton and Eilana Lappalainen as Madama Butterfly spun Puccini's brilliant score into the ultimate conflict using gorgeous music to weave such an ugly tale. A crowd of 950 took in the first of two presentations of the classic opera.

Tenor Bengochea, who was raised on a sheep ranch near Brockton, was masterful at evoking hatred in the first two acts, then bringing the audience back around with his pitiful lament in the final act. His final beseeching cry of "Butterfly" in Act III won't soon be forgotten.

Soprano Lappalainen, who was raised in Canada and is of Finnish-American heritage, showcased her years of experience in the role of Madama Butterfly in Friday night's performance. Vocally, she was brilliant, and her movements as a geisha were exacting from the bowed head to her shuffling, dainty steps. She, too, was able to elicit a strong reaction from the audience Friday night as she changed from giddy bride to abandoned mother.

The set and lighting were stunning. In one sorrowful scene, where Butterfly, her house maid Suzuki and Butterfly's young child wait throughout the night for Pinkerton to return, the light softly changes to reflect the time of day. The luminous glow creates beauty in a scene where the ugly reality of Butterfly's plight is settling upon us. Pinkerton's ship has returned, but he is in no hurry to reunite with his Japanese bride.

Laura Twelves' expressive face and rich vocals enhance her role as the faithful servant Suzuki and it is through her that we feel some of Butterfly's pain. A young Billings girl, Sophia Writesel, played the part of Butterfly's young son, Trouble.

There are signs in Act I that what Pinkerton wants and what Butterfly needs are oceans apart. Snippets of military marches find their way into Puccini's score in the first act as Pinkerton brazenly goes about his plans to win Butterfly as his wife, then head back to America to find an American wife.

"I must possess her even if it damages her wings," Pinkerton tells the U.S. Consul Sharpless, played by Rimrock Opera veteran Jan Michael Kiliewer.

In a bit of foreshadowing, Sharpless congratulates Pinkerton on his fine life with "a girl in every port," but predicts an eventual "sadness in your heart" because of his lifestyle.
Kiliewer plays the difficult role of Sharpless with ease, becoming the enabler to Pinkerton's brusque relationship with Butterfly, then trying to help the teenage geisha move on.

Billings native Gennard Lombardozzi provides some comic relief to the heavy story, flitting in and out for scenes as the money-grabbing marriage broker. Dennis Rupp makes the most of his few minutes on stage as Butterfly's angry uncle Bonze, a Buddhist priest who condemns Butterfly for forsaking her religion to be with Pinkerton. His righteous anger turns Butterfly's entire circle of friends and family away from her, just when she needs them the most.

Other veteran ROC performers make nice additions to the cast, notably Bret Weston as Prince Yamadori. Douglas Nagel serves as stage director, and Anthony Quartuccio is music director.


<![if !supportLineBreakNewLine]>
<![endif]>