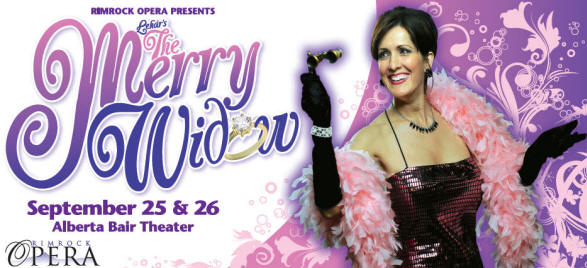 What Makes 'The Merry Widow' Merry?

Franz Lehar's sensual story, brilliantly reflected in its vibrant score, brings us the time-honored plot, "Boy Meets-Loses-Gets Girl" in the mythical kingdom of Pontevedro . The Girl: Hanna Glawari. The Boy: Count Danilo, chargé d'affaires at the Pontevedrian Embassy in Paris , where the story takes place. The two were once in love, but could not marry since she was a "commoner."

At an Embassy party, Hanna exposes the reason for her merriment,
"For love seldom ignites so many hearts within an hour,
But just one frank look at my bankbook explains my mysterious power."

Widowhood has left her heiress to twenty million francs after a conveniently brief marriage to an aged banker.

Hungarian composer Lehar, born in 1870, was captivated by Slavic melodies he heard in his travels as conductor of military orchestras to faraway outposts of the Austro-Hungarian Empire. These melodies wind through the endless chain of wishes and passions, of kisses and embraces in The Merry Widow.

Carolyn Coefield's coloratura soprano voice brings Hanna to life opposite Chris Johnson's Danilo on September 25 and 26. Megan King, Gennard Lombardozzi, Robert Aaron Taylor, and Billings businessman Chris Montague complete the cast. Maestro Andy Anderson conducts the Rimrock Opera Orchestra and Dr. Chris Sheppard prepares the chorus. Choreography is by Krista Marshall. Douglas Nagel produces and directs.

Cast
Director/Producer: Doug Nagel
Conductor: Andy Anderson
Hanna Glawari: Carolyn Coefield
Danilo: Chris Johnson
Valencienne: Megan King
Camille: Gennard Lombardozzi
Baron Zeta: Robert Aaron Taylor
Njegus: Justin Ward
Sylvaine: Kristy Dallas
Olga: Mary Ryan
St. Brioche: Lance E. Hansen
Cascada: Quentin Staton
Bogdanovitsch: David Otey
Kromov: Nate Liptac
Lady's Maid: Sharon Harris
Chorus Master: Daren Small
Chorus Members: Kristy Dallas, Kelly Deiling, Erin Small, Steve Green, Lance E. Hansen, Josh Head, Shirley Herman, Nate Liptac, David Otey, Aaron Pagniano, Janie Rife, Shelly Ryan, Mary Ryan, Mike Ryan, Judy Schwager, Quentin Staton, Kristin Van Luchene, Justin Ward
Grisettes: Maria Day-Margot, Kristy Dallas-Dodo, Hannah Bondurant-Gigi, Jessica Courtney-Lulu, Mary Erickson-Fifi, Janie Rife-Frou-Frou
Choreographer: Krista Marshall
Costume Director: Loretta Wittmer
Assistant Costume Director: Marie Thompson
Make-up Director: Angie Stidham
Stage Manager: Richelle Stricker
Lighting Designer: Alex Heyneman
Rehearsal Pianist: Sandi Rabas
Sets: Utah Festival Opera
Set Technical Director: James Lyden
Costumes: Westendorf Costume Emporium
English Text: Pocket Opera, San Francisco
News and Press
'Merry Widow' dresses up, steps up
JACI WEBB Of The Gazette Staff | Posted: Friday, September 24, 2010 12:15 am
The purple and red feathered hats have been assembled, the men's can-can rehearsed, the orchestra poised to soar through Franz Lehar's epic score. All looked ready Monday for Rimrock Opera Company's staging of "The Merry Widow" this weekend at the Alberta Bair Theater. But conductor Andy Anderson had a last-minute sermon for his vocalists: "Think uber diction."

Since the opera is sung in English, it seems like an easy chore. But American vocalists speak and sing English with relaxed pronunciations, like "git" instead of "get," that led to Anderson's reminder.

It's all those details the audience shouldn't have to think about that put the shine to the opera. Between Anderson and Rimrock Opera Company's producer and director Douglas Nagel, those pesky distractions that could mar a polished production will be gone by Saturday night.
"This is a beautiful production," Nagel said. "It's opulent. The clothes are brand-new. Every chorus woman will wear a hat, some that have bird nests and all with feathers. It's just those touches that give them the elegance."

Krista Marshall, from the School of Classical Ballet, was enlisted to work on choreography, which will include a men's can-can during a silly scene where the male leads and chorus belt out a song about women. Billings teenager Maria Day, who has grown up singing in the Rimrock Opera Chorus for Kids, will perform a solo ballet during the staging.
"Krista has done an amazing job with choreography. Wait until you see the men's kick line, it will bring down the house," Nagel promised.

Marshall, who has never choreographed an opera before, but has performed in the "Nutcracker" many times, said bringing dance to opera is a challenge.
"You have to be real conscious about the main priority, which is the singing, so every little turn matters," Marshall said.

Now in its 12th season, the ROC has grown into a company that nurtures local talent while it continues to draw national performers and produce quality shows. Two of the leads, Chris Johnson (Count Danilo Danilovitsch) and Gennard Lombardozzi (Camille, Count de Rosillon), grew up in Billings, graduating from Senior and West high schools, respectively.

Carolyn Coefield, who plays the title role of the widow Hanna Glawari, is an adjunct voice professor at Rocky Mountain College, and many members of the 33-member cast have ties to Billings. Only one cast member, local actor David Otey, is making his ROC debut. Everyone else has performed in at least one Billings opera, including Robert Aaron Taylor (Baron Mirko Zeta), who commutes from New York City to help stage Billings operas. Anderson and his wife, Megan King (Valencienne), live in Alabama, but have been involved in several Billings operas. The new ROC chorus master, Daren Small, is a West High graduate and now teaches in School District 2.

"I'm really pleased with our artistic balance," Nagel said. "I think I'm empowering people who grew up in Montana to become professional vocalists."

One special cast member brings a host of memories about the 2002 ROC production of "Merry Widow," featuring the late Ed Harris. Harris' widow, Sharon, will play the role of Valencienne's maid, which was written just for her by Nagel. Harris played the Baron in the 2002 production. Sharon said she has had some tearful moments watching the production come together, but then she feels Ed comforting her.

"I am very aware that Ed is in the theater and when I become too emotional, I hear Ed saying 'Listen to Doug and focus,' " Sharon said. "Ed would definitely have encouraged me to be part of this show."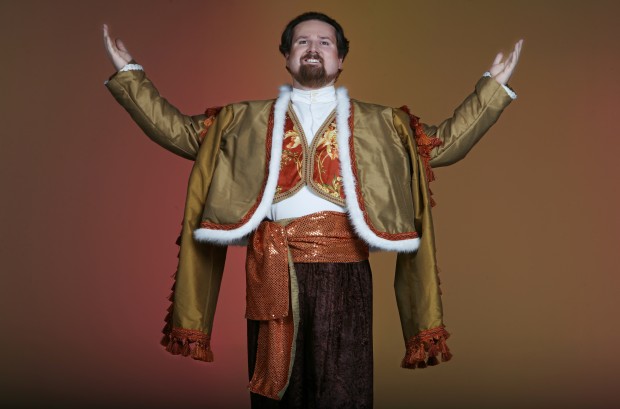 CASEY RIFFE/Gazette Staff Robert Aaron Taylor as Baron Zeta in Rimrock Opera's "The Merry Widow" Friday, September 10, 2010.
CASEY RIFFE/Gazette Staff Robert Aaron Taylor as Baron Zeta, left, with Megan King as Valencienne, and Gennard Lombardozzi as Camille de Rossilon in Rimrock Opera's "The Merry Widow." Friday, September 10, 2010.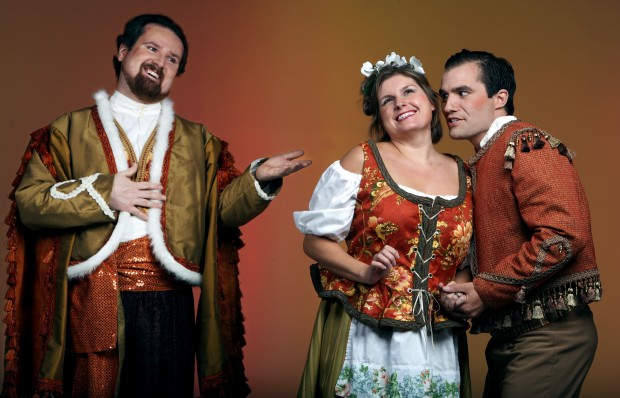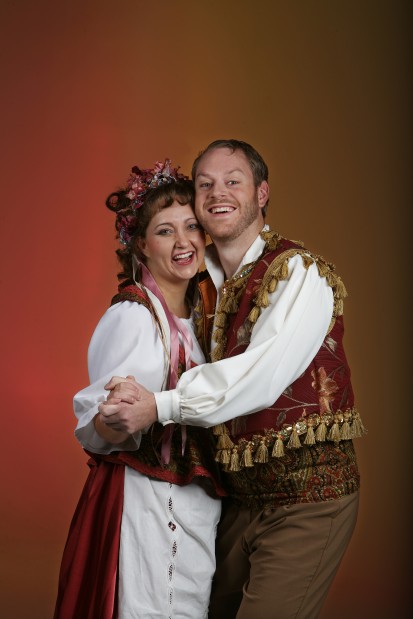 CASEY RIFFE/Gazette Staff Carolyn Coefield as Anna Glawari and Chris Johnson as Danilo Danilovitsch are the leads in Rimrock Opera's "The Merry Widow." Friday, September 10, 2010.


September 22, 2010 Billings Outpost
Merry Widow' this weekend; KJERSTEN OLSGAARD
A refined group of classical musicians, a proud number of whom have mixed roots in Billings, will present the Rimrock Opera Company's upcoming production of Franz Lehar's "The Merry Widow," a tale brimming with laughs and love affairs.
Carolyn Coefield, performing the lead female role of Hanna Glawari, and Gennard Lombardozzi, singing Camille's character, talked to me about their love and encouragement for opera, and specifically "The Merry Widow."
Both of these musicians started their musical careers as young instrumentalists, eventually switching to and pursuing voice on a professional level. Coefield is now an adjunct professor of music at Rocky Mountain College, where she also received one of her degrees in music.
At the encouragement of Lombardozzi's college voice teacher, this West High School graduate, after initially dragging his feet, went on to study and fall in love with opera in graduate school.

What is your favorite part of opera?
Coefield: "I love to study it. I love the research of a role, and I like to rehearse. And then the performance is just kind of like the icing on the cake."
Lombardozzi: "The most exciting part for me is the collaboration that happens on stage between the characters, the energy between the performers … . I also have a huge love for the technique of voice in opera. Getting the efficiency of your sound takes a long time and a lot of training, it's a challenge."

What do you like or think is unique about "The Merry Widow?"
Coefield: "What I really love about it is that it's so accessible. I think anybody can fall in love with this opera. The music is very singable, the characters are very real. There's comedy and romance, kind of all the best things of a light opera."
Lombardozzi: "It's an operetta, a little lighter, a little light-hearted. I think it's easy on the audience. When they leave, they'll be smiling and happy – there's no one dying or anything like that. It caters to dancing with a lot of waltzes. I think it's easy to listen to, and then with the plot being comedic, it's easy to watch also."

With such dated material, how do you relate to your character/the plot?
Coefield: "The story is very timeless. It's something that we see played over and over in films and in books. Sure, in a more contemporary fashion, but the whole idea of a romance gone sour and then rekindled back to life and in the end ultimately witnessing a joyous reunion, that's something we see very often. It's not an uncommon storyline for that fairytale romance that everybody likes to enjoy and escape with."
Lombardozzi: "As a performer, you find things in a character that you can relate to in your own personality. And then, at least this is how I go about it, you try to make it as real as possible, but still you exaggerate parts of maybe your personality that you have or a personality trait that you can see in somebody else.
"The way Doug [Nagel, ROC's general director] is having me play it, my character is a romantic, lust-filled, at-the-woman kind of guy. And I think everybody has a little bit of that in them or they want to. So you just take that feeling and you exaggerate it."

What do you want people to know about this production?
Coefield: "I think for newcomers to opera, this is a wonderful introduction. I hope that people wouldn't shy away from it because it has the tagline of opera. I think that can sound intimidating to people who are new to it. If you want to try something new, this is a terrific way to get started."

With this feel-good storyline and a young but incredibly talented and passionate crew, "This opera sells itself," said Lombardozzi.
The two couldn't rave enough about Nagel and his fresh perspectives as well as the other musicians involved.

Other Billings-rooted musicians in this production include Chris Johnson, a Senior High graduate, who is Danilo, the lead male role. The choir director, Daren Small, teaches in Billings School District 2 and graduated from West High, as did Kristy Dallas, who performs Sylvaine. Like Coefield, Lance Hansen, singing St. Brioche's role, graduated from RMC with a degree in vocal performance.

The Alberta Bair Theater will host two showings of "The Merry Widow," this Saturday at 7:30 p.m. and Sunday at 3 p.m. Call the ABT box office for tickets and more information at 256-6052.

Theatre Review
By SHARIE PYKE -

For The Outpost
My piano teacher, Kathleen Rogerson, was a conservatory graduate. She taught me with a drink in one hand and a pencil in the other, correcting my mistakes in rhythm by rapping on the top of my head. She instilled in me a love of music along with a deep-seated suspicion of opera, and sopranos in particular. They sounded like yowling cats, she said.
But Rimrock Opera has converted me. I'm not just a believer, I've become addicted to the live performance. I love the costumes, the sets, and above all the singing. When the curtain finally goes down at the end of each performance, I get that same wonderful, sad feeling I have when I finish the last page of a brilliant novel.

Rimrock Opera's fall production of Franz Lehar's "The Merry Widow" didn't disappoint. While the original performance in Vienna in December 1905 was in German, the Billings production was in English. Since "The Merry Widow" is an operetta, the dialogue is spoken, not sung, which brings it closer to the American musical, at least in structure.
I laughed at the hokey plot with its Late Victorian naughtiness. Hanna, the Merry Widow, flirts with everyone but is really pining for the love of her youth, Donilo. Count Camille, the epitome of the French lover, pursues the fair Valencienne, unfortunately married to the sweet but aging Baron Zeta.

Adultery is rampant, but who cares?

This is Parisian marriage, we're told; bed hopping is both a rite and a right.
The Rimrock Opera interpretation was superb, the casting right on. I was especially pleased with baritone Chris Johnson's performance as Donilo, the widow Hanna's former heartthrob. He has a real stage presence and hit not just the notes, but the nuances his character required.

Carolyn Coefield as Hanna reminded me of Vivien Leigh as Scarlet at the beginning of "Gone with the Wind." She sparkled.

But Hanna, unlike Scarlett, is no debutante. As Donilo says to her, "The children have grown up, whether they wanted to or not." Both Hanna and Donilo have a past. Will they find their way back into each other's arms? Of course, they will. This is a comedy.

Megan King as Valencienne and tenor Genard Lombardossi as Camille are the emotionally adulterous couple. Both are strong actors as well as vocalists.

Mr. Lombardossi's Camille was very acrobatic. He not only hit every note, he didn't miss a sight gag or pratfall.

No review of this production would be complete without special attention to the choreography by Krista Marshall. Maria Day, a high school sophomore, danced a superb folk solo at the opening of act II.

And Paris wouldn't be Paris without a line of kicking chorines at Maxim's a la Toulouse Lau-Trec.

Who attends the opera? A cross section of Billings. Last weekend's audience included cowboys in their best hats and boots, pretty teenagers in short, shimmery dresses, and a 7- or 8-year-old girl with her mother, dressed in her Sunday best. My favorite: a young man sporting a Mohawk, a tux complete with white shirt and bow tie, his feet encased in a pair of tenny runners.

Bravo, I say! And bravo to Rimrock Opera Company. Their next opera is the tragedy, "Tosca," on Apr. 30 and May 1, 2011. Bring your hankies.
R
©2000-2011 Rimrock Opera Company. All rights reserved