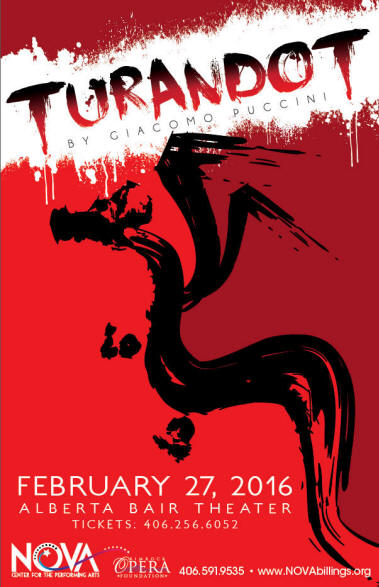 Purchase Tickets

Billings Gazette Publicity Release

Story by Jaci Webb, Photos by Bob Zellar and Casey Page (PDF Click here)
About Turandot

Princess Turandot - Andrea Garritano soprano
The Emperor Altoum,
her father
- Justin Ward tenor
Calaf,
Timur's son
- Jeffrey Grant Kitto tenor
Liu
a young slave-girl
- Megan King soprano
Pong,
Head Chef of the Imperial Kitchen
- Scott Wichael tenor
Ping,
Grand Chancellor
- Daren Small baritone
Pang,
Majordomo, General Purveyor
- James Duncan tenor
Timur,
the dispossessed King of Tartary
- Douglas Nagel bass
Mandarin - William Mouat baritone
Pu-Tin-Pao,
The Executioner
- Mike Pasini silent role


Director: Matthew Haney
Conductor: Andy Anderson
Accompanist: Eric Andries
Orchestra Manager: Richele Sitton
Choreography:

Krista Leigh Pasini


Stage Manager: Dodie Rife
Assistant Stage Manager: Ben Seratt
Set Designer: Nathan Blanding
Lighting Designer: Alex Heyneman


You Tube Videos


1

2




by

Nessun Dorma

Dress Rehearsal Make-up Photos
Dress Rehearsal Performance Photos
by Dennis Kern

Calaf:

Tenor, A prince, anonymous to everyone in the opera. Supposedly a great guy but does little to justify this reputation.


Liu:

Soprano, A slave girl. Loves Calaf beyond all measure -- the feeling's not mutual.


Pang:

Tenor, The second Commedia character. The Majordomo.


Ping:

Baritone, The first of three commedia dell'arte characters, all of whom, despite great music, are potentially offensive, 19th-century stereotypes. The Lord Chancellor.


Pong:

Tenor, The third Commedia character. The head chef of the palace.


Princess Turandot:

Soprano, A fierce man-hating spinster who aims to kill anyone wanting to marry her, in the belief that she is avenging a mistreated ancestor.


The Emperor:

Tenor, Father of Turandot. His name is Altoum but it is never spoken in the opera.


Timur: Bass, Formerly king of Tartary. Currently old and blind.



SYNOPSIS
Peking in Legendary Times
Act I
A Mandarin proclaims that the Princess Turandot will marry only a royal suitor who solves three riddles. The Prince of Persia, having tried and failed, is about to be executed. The mob calls for the executioner. A slave girl, Liù, begs for help when her companion, an old man, is knocked down. The Unknown Prince, Calaf, helps and recognizes his father, Timur, once king of the Tartars. Father and son, separated since a foreign invasion, embrace. When Turandot appears for the execution, Calaf is dazzled and determines he must have her. Liù, Timur, and the three royal ministers, Ping, Pang, and Pong, try to dissuade him, but Calaf strikes the gong to announce himself as the next suitor.
--- INTERMISSION ---

Act II
Ping, Pang, and Pong reflect on how the people of China lived in harmony for centuries before Turandot's rule. Now, the three of them have been reduced to ministers of execution. The full court assembles, and the Emperor counsels Calaf to depart. He refuses. The Princess explains the purpose of the test—to avenge an ancestress brutalized by an invader—and asks the riddles: "What is born each night, only to die the next day?" "Hope," he answers. Then "What is like a flame, yet is not, that grows cold when life is lost and burns with hope and desire?" "Blood." And finally, "What is ice that sets you on fire?" "Turandot!" Realizing the Prince has won, the crowd is elated. Stunned, Turandot pleads with her father not to give her away to a man. Calaf offers Turandot an escape. If she can tell him his name before dawn, he is willing to die.
--- INTERMISSION ---

Act III
A Mandarin proclaims that on penalty of death, no one is to sleep that night. Each must seek out the name of the Unknown Prince. Timur and Liù are dragged in by the guards; Liù claims that she alone knows the answer and it will remain her secret. She is tortured in vain. Turandot, perplexed, asks what gives Liù such strength. "It is love," replies Liù before she seizes a dagger and stabs herself. The crowd takes away Liù's body and Turandot is left alone with Calaf. He grabs the Princess and kisses her. She weeps, confesses her love for him, and begs him to leave with his secret. Knowing she is his, he risks all and tells her his name. At dawn, Turandot appears and announces, "I know the stranger's name: it is Love!" --Seattle Opera