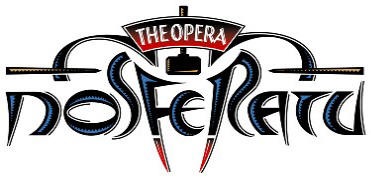 (Dracula)

**WORLD PREMIERE**

Synopsis/study guide
October 22 & 24, 2004
An Opera in Three Acts
Logo by Heins Creative

Based on the film by F. W. Murnau

Poster Design by
© Heins Creative









John Baber, Lucinda Butler, Dana Gioia, Christine Meyers and Alva Henderson at the premiere of Nosferatu
<![if !vml]>


Dana Gioia Photograph

<![endif]>
<![if !vml]>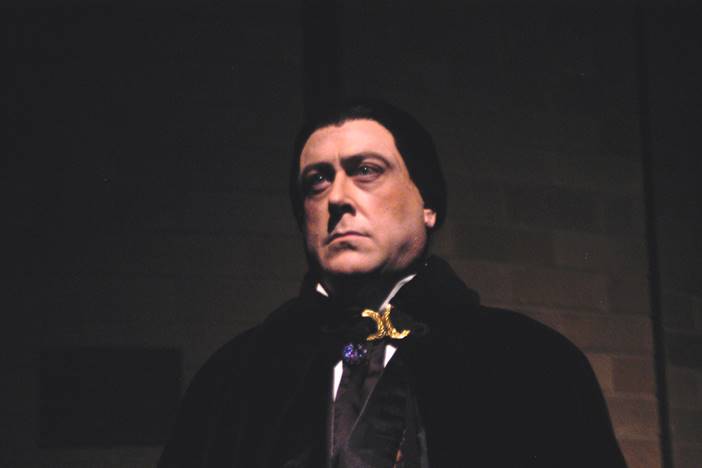 <![endif]><![if !vml]><![endif]>
Dana Gioia Photograph
'Nosferatu' opera highlights visiting poet's achievements
CHRISTENE MEYERS Gazette Arts & Entertainment Editor | Posted: Tuesday, February 26, 2002 11:00 pm
Opera began as poetic drama.

So it seems natural that award-winning poet Dana Gioia should tackle the words, or libretto, for "Nosferatu," a vampire story of mythic proportions.

Gioia is prolific, dabbling in many literary forms - linguist, poet, critic, translator. Lovers of poetry and opera have three days of treats in store, with his Billings visit this week.
A highlight of the visit is Friday's presentation of scenes from "Nosferatu," which is built around the character Ellen, a soprano in the touching role of victim.

"I didn't imagine a gothic thriller like Bram Stoker's 'Dracula,' " Gioia says. "I felt it was a story about a woman caught in a tragic circumstance. We didn't want a horror story. The vampire is only on stage three times. But, when he is, he's larger than life."

Billings-born Doug Nagel, scheduled to play the vampire, is recuperating this week from emergency retinal surgery. On Tuesday, he was debating whether to play a tape for his role or hand the spotlight entirely to soprano Susan Gundunas.

But the show will go on Friday evening, and Gundunas will sing three or four arias.

Nagel and Gundunas are linked to "Nosferatu" composer Alva Henderson through Opera San Jose, where Nagel has directed productions and where Henderson heard and loved Gundunas' voice. He also admired Gioia's writing, so the elements came together.
The Henderson-Gioia "Nosferatu" is based on the famed silent movie by F.W. Murnau.

Henderson wrote the role of Ellen with Gundunas and her voice in mind, "just as Donizetti, Bellini and Verdi wrote their finest roles for specific singers," Gioia explains.

Billings audiences will "hear the soprano for whom the music was written and get the bonus of having the librettist here to talk about it and introduce it," Nagel says. "That just doesn't happen very often - anywhere."

Gioia hit the national spotlight with his lively and passionate 1991 Atlantic essay, "Can Poetry Matter?"

He has been the subject of special programs on the BBC and National Public Radio, and he lectures widely.

Based in Santa Rosa, Calif., Gioia, 51, is a native of Los Angeles who began a career in business in New York after earning his MBA at Stanford and became vice president of marketing for General Foods.

He also completed a master's in comparative literature at Harvard and left business in 1992 to become a full-time writer.

After the Atlantic piece, his essays and poetry received national acclaim. His critical collection was chosen a "Best Book" by Publishers Weekly. He was nominated for a National Book Award and was a finalist for the National Book Critics Award in Criticism.
Gioia is half-Italian, and the other half is native American and Mexican.

"My great-grandfather was killed in a gunfight in Wyoming, so I'm connected to your part of the country," he notes.

During Gioia's Billings residency, he will take part in tonight's lecture, "Why Poetry Matters in America" at Cisel Recital Hall, Thursday's poetry reading at Yellowstone Art Museum and Friday's recital of scenes from "Nosferatu," back in Cisel.

"I'll narrate and give scenes from the opera," Gioia says.
He considers opera the only living form of poetic drama and calls opera "the only remaining form of tragic theater."

As music critic for San Francisco Magazine and a lifelong follower of opera, Gioia says, "It seems to me that a lot of the most interesting stuff being done in opera is by small, regional companies."

His poetry has musical elements, too, he says. "It is meant to be read aloud."
Poetry, he said, "is a magic spell you're trying to create over the reader - opening the floodgates of memory and imagination."
'Nosferatu' tonight
Posted: Thursday, February 28, 2002 11:00 pm
Poet and librettist Dana Gioia will speak about his creation of the libretto for "Nosferatu," with arias to be performed this evening. The effort is sponsored by MSU-Billings, Rimrock Opera, the Writer's Voice and Yellowstone Art Museum, on the MSU-B campus.

Gioia's Friday night program with Susan Gundunas, soprano, is the final evening in a three-part collaboration of art and music programs on poetry and music in Billings.

The poet will describe and introduce scenes from "Nosferatu," an opera composed by Alva Henderson, featuring Gioia's libretto. San Jose opera star Susan Gundunas has chosen several arias to perform.

The event will take place tonight, March 1, at 7:30 p.m. at Cisel Hall, MSU-Billings. There is a $5 charge.

<![if !vml]>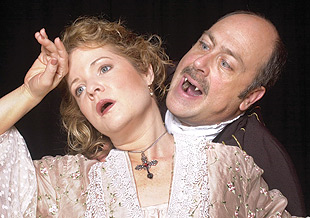 <![endif]>

Courtesy photo
Douglas Nagel and Susan Gundunas star in the Rimrock Opera Company's "Nosferatu."
Opera company opens 5th season with world premiere
CHRISTENE MEYERS Of The Gazette Staff | Posted: Sunday, September 26, 2004 11:00 pm
Billed as a "dark and sensuous tale of obsessive love," Rimrock Opera Company's "Nosferatu" hits the boards in October, with two free previews in the next 10 days.

ROC celebrates its fifth year and its most ambitious season with a world premiere, some heavy-hitting opera stars and a libretto written by famed poet Dana Gioia.

Gioia's other hat is as president of the powerful Washington, D.C.-based National Endowment for the Arts. He and his California-based family will be in Billings in October for part of the celebration, including opening night Oct. 22 at the Albert Bair Theater.

ROC artistic director Douglas Nagel arrived in Billings Friday to begin a frantic few weeks of rehearsals with 35 Billings choristers and a 30-piece pit orchestra. Barbara Day Turner, a finalist for the Billings Symphony conductor's job, returns to ROC to conduct and Symphony concertmaster Mary LaMonaca will lead the strings. The other stars hail from across the United States and will be in Billings for two-plus weeks of final rehearsals.
The "Nosferatu" tale has been interpreted in various venues as "Dracula," and Nagel describes his production as "a more artistic take on Bram Stoker's story. Our version focuses more on drama than on horror. It's sexy, but subtle, and suitable for families."

The storyline is based on the classic silent film by F.W. Murnau. To get the town in a "Dracula" frame of mind, the enterprising Nagel is preparing a variety of fun and informative previews, movie viewings and discussions.

"We want the audience informed and as excited as we are," Nagel said. Among other enticements, the Parmly Billings Library is hosting a daylong showing of Dracula-related films on Oct. 23, the day after the official world premiere.

Nagel is excited to host the pair of free previews. Joining him at both will be opera star Susan Gundunas, portraying the leading lady, Ellen. At the Sept. 29 preview, composer Alva Henderson will be present. He wrote the role specifically with Gundunas' soprano voice and versatility in mind. At the second preview, Nagel will be joined by opera star Sandra Rubalcava, known to ROC audiences for her winning portrayal of Donna Anna in "Don Giovanni."

"I'm really pleased to be able to share the knowledge and talent of these extraordinary people," said Nagel, who sings the vampire role. "How often do people get this kind of opportunity, to meet the composer, hear excerpts, ask questions? It's fantastic."

Nagel says the production is "by far ROC's most adventurous project, epic really, and a first on so many levels." Its budget is over $200,000, more than twice that of earlier productions.

At the previews, Nagel also plans to discuss the opera's plot lines and show details from the set - also a first, created in Billings by ROC.

The free previews are Wednesday, Sept. 29, and Wednesday, Oct. 6, both at 7 to 9 p.m. and both at the old DeMarco's Clothing location in the center of West Park Plaza. Punch and cookies will be served.
Breathing life into a vampire
<![if !vml]>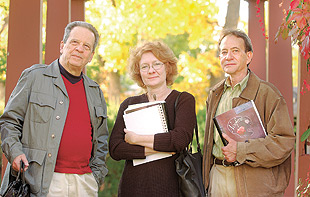 <![endif]>LARRY MAYER/Gazette Staff
Director Charles Maryan, conductor Barbara Day Turner and composer Alva Henderson gather in Billings to work on "Nosferatu." On the cover, Douglas Nagel, as Count Orlock, menaces heroine Susan Gundunas in "Nosferatu," in a Gazette photo by Larry Mayer.


CHRISTENE MEYERS Of The Gazette Staff | Posted: Thursday, October 14, 2004 11:00 pm
There's nothing like a world premiere to test the mettle of a production company.

So Rimrock Opera Company's artistic director Douglas Nagel is running neatly sculpted directed circles around himself as "Nosferatu" rehearsals enter the final week.

The premiere involves "firsts" - from creation of new set, to public meshing of the work of composer and librettist for the first time, to design of costumes and rehearsing of new music.

"Because this is a premiere, there are no recordings to buy, nothing to reference for how the music should or could sound," Nagel says.

He wanted the orchestra to be perfect because national reviewers and publications are expected at the premiere, so Nagel hired acclaimed California harpist Anna Maria Mendita. She will play the difficult harp score in the 30-piece orchestra, which includes many of the best musicians in the region, with concert master Mary LaMonaca.

Nagel feels "completely comfortable, like old friends" with the talents of LaMonaca, a veteran to ROC productions, and conductor Barbara Day Turner. The maestra is a finalist for the Billings Symphony conducting job and is also an old friend of ROC, having conducted productions before.

Nagel is ROC's artistic director, the glue holding the production together, and is singing the leading role of Orlock, the Hungarian count later revealed to be the vampire Nosferatu.
Errand boy, star.
For the past two months, Nagel has been ROC's errand boy, rehearsal coordinator and general "go-fer." ROC has many volunteers, a capable board and a terrific support system in the cast and crew. Another essential ingredient is Nagel's devoted mother, Helen, who keeps his schedule together, offers moral support and a musical ear, and even bakes goodies for rehearsals.

Still, Nagel is not above tending to details himself.

That can mean picking up someone at the airport, confirming a publicity photo shoot, proof-reading the program, turning out the lights after rehearsals or putting the finishing touches on the supertitles, cue cards that the audience can view. Because the work is new, he wants people to be able to view the text, even though the opera is in English.
Another first: The director of the National Endowment, poet Dana Gioia, is coming to hear ROC interpret his libretto.

And noted composer Alva Henderson has been in Montana for several weeks, working with the maestra and company, perfecting the nuances of his score.

Nagel says, "His music has fabulous melodies, almost like you'd be watching a great movie. The lines flow, yet there is excitement. His orchestration is smartly built around being able to hear the singers clearly."

Gioia is a "singer's writer" whose sense of poetry and lyricism shine through, Nagel says. Instead of directing the production himself, as he has done before, Nagel hired Charles Maryan, who recently did the stage direction for singer Carly Simon's opera on divorce.

Gioia's libretto was developed from the 1922 silent film classic by F.W. Murnau.

"I didn't imagine a gothic thriller," Gioia says. "Instead, I felt it was a story about a woman caught in a tragic circumstance."
Stars surround ROC
Opposite Nagel's title character is soprano Susan Gundunas, as Ellen. The doomed heroine becomes the obsession of Orlock, her husband's sinister business associate. Henderson wrote the role specifically for the soprano's substantial range and expressive talents.

A host of talent surrounds the two leads, including some voices audiences will remember from past ROC productions of "Tosca," "Don Giovanni" and other works.

For previous productions, Nagel has obtained sets from other opera companies. For "Nosferatu," he is creating his own, with help from sketch artist Fred Voepel. The artist produced dozens of moody sketches for the two-act production, detailing the comings and goings of various characters.

Also new for ROC was the hiring of cover artists, a string of talented players who could step in if needed. Because the covers are rehearsing right along and have learned every lyric, they will sing a full rehearsal with audience.

"That way, they will be able to use 'Nosferatu' on their resumes," Nagel says.
Another first, emerging from "Nosferatu" is the creation of the Rimrock Opera Children's Chorus, a company of 30 young voices that plans to remain active all year. This year, 25 adults and two children are singing in the "Nosferatu" chorus, backing up the pros.
Among other voices to listen for next week are Karen Carle, mezzo-soprano, San Francisco, as Marthe, and Dennis Rupp, bass, Burbank, Calif., as Skuller.

Nagel is thrilled that Heidi Rae Kalina of Lewistown, is Marthe's cover artist. The character Marthe is Ellen's older sister and guardian. Playing the cover of Skuller is production chorus master Edward Harris.

Other familiar "cover" names are Christopher Bengochea, from Brockton, who is covering the part of Eric (he sang in ROC's "Don Giovanni") as well as Sandra Rubalcava (who sang Donna Anna in "Giovanni" here), covering the leading female role of Ellen.

Gazette opinion: A world premiere in downtown Billings
Posted: Tuesday, October 19, 2004 11:00 pm
A world premiere on Broadway usually means New York. But on Friday night, the spotlight will be on the Alberta Bair Theater on Billings' Broadway. Rimrock Opera Company will present the world premiere of "Nosferatu."

The whole idea of staging an opera in Montana - let alone a world premiere - is a daunting undertaking that would have discouraged all but the most enthusiastic, energetic opera fans. Even the casual observer must appreciate the challenges of marrying new music, new prose, a professional cast assembled from near and far, an orchestra as well as the artistry and technical skills required to create brand new sets for a production that's never before been performed.

The stars of the world premiere will include nationally known director Charles Maryan, performers Susan Gundunas and Robert McPherson, an acclaimed harpist from California, a 30-piece local orchestra conducted by Barbara Day Turner and original music by composer Alva Henderson. Poet Dana Gioia, director of the National Endowment for the Arts, is expected to be on hand Friday when ROC interprets his libretto, which he developed from the 1922 silent film classic by F.W. Murnau.

Kudos to Rimrock Opera Company, its hardworking volunteers and community-minded sponsors. A standing ovation for ROC artistic director Douglas Nagel, who is performing the title role as well as organizing dozens of details.

Today, a student audience will experience the vampire opera performed by the "cover" cast. Tickets were still available Tuesday for both the 8 p.m. Friday and 2 p.m. Sunday performances. (Call 256-6052.) If you've never attended an opera, here's your opportunity right in downtown Billings.

Rimrock Opera Company has concocted a rich treat - a Dracula drama just in time for Halloween. Enjoy!
Head of arts agency is 'Nosferatu' librettist
CHRISTENE MEYERS Of The Gazette Staff | Posted: Wednesday, October 20, 2004 11:00 pm
The opera "Nosferatu" began with a meeting of the minds over cups of coffee and tales of the legend of Dracula.

Composer Alva Henderson and poet Dana Gioia had a vision, to pump new blood - pardon the pun - into the ancient legend of the vampire.

"We sat down and talked first about the idea, the action we saw happening, the creation of an opera to tell this story," Gioia says.

Due in Billings this week, from his Washington, D.C., office, the native Californian will wear several hats during the weekend world premiere of the work.

One hat is as librettist for the mid-19th-century opera, set in a moody Baltic seaport town. Another hat is as an internationally acclaimed poet and author of three highly regarded books from which he'll read Saturday night.

Finally, he wears perhaps a more famous or at least a heavier hat as chairman of the National Endowment for the Arts. In that capacity, he will take part in Friday's Montana Arts Council meeting at the Yellowstone Art Museum.

To avoid any conflict of interest, Gioia is attending the opera premiere on his own time and at his own expense. And he will receive no pay for Saturday's free public reading on the Montana State University-Billings campus, co-sponsored by The Writer's Voice.

Gioia and Henderson have been friends and colleagues for 20 years and have conferred frequently during the Rimrock Opera Company's rehearsals this month.

As they began collaborating on "Nosferatu" around the millennium, they first broke the opera into scenes, establishing which characters would be on stage within each scene and deciding where they thought the big musical moments would come in the action.

"Words and ideas came first, then the characters and their vocal types," Gioia said. "This opera is very driven by character, action and scene."

The men also agreed that, through their study of world literature, the villain has to be appealing to the audience.

"Shakespeare, Marlowe, all the great writers create villains who are attractive and plausible," Gioia says.

So he is confident that Douglas Nagel's character of Count Orlock - later revealed to be Nosferatu - will be complex, exciting.

"The vampire reflects the death wish we all have to a degree -that exciting desire for self-destruction, the risk-taking," Gioia says.

Interestingly, he says, but not all that uncommon in musical theater or opera, the work was written out of sequence.

"I think the second scene we completed was for the first half of the finale," he says. "And that helped Alva. Having that finale opening nearly done gave us new vigor, and then fresh ideas came."

Gioia is fitting the world premiere in between NEA duties, a seven-day-a-week responsibility.

A poet since childhood, he says, "I suppose I've taken all that energy and creativity and put it into the NEA."

He has written prose and poetry for many other musical forms, including rock and jazz productions. Now, at the NEA, he spends hours designing and championing programs to bring jazz masters and Shakespeare into schools and rural communities across the country. A translator of many languages, Gioia's literary passion extends to making the great works of literature available to students of all ages and economic backgrounds.
The NEA post, he says, has been a "real challenge, a real learning experience."

"I think we've rebuilt the organization," he says. "It is now an institution of the highest quality. And, happily, we have very strong bipartisan support."

His California roots and his emergence from a family with little formal education but an abiding love for the arts has given Gioia the passion to make arts accessible to everyone. The NEA focus has only temporarily borrowed the verve from the poet.

"It's still creative, just a different outlet," he says. "I hope to emerge from this job with a few poems in me still."

<![if !vml]> <![endif]>Award-winning poet Dana Gioia is also head of the National Endowment for the Arts. Saturday night, he tipped his hat to the written word at MSU-Billings. He read from his own work, fielded questions and discussed the mechanics of poetry before an audience of more than 200.Opera's writer charms 200 with poetry
<![if !vml]><![endif]>
<![if !vml]><![endif]> LARRY MAYER/Gazette Staff
Susan Gundunas portrays the leading lady, Ellen, in a part written for her voice.World premiere of 'Nosferatu' tonight at ABT
CHRISTENE MEYERS Of The Gazette Staff | Posted: Thursday, October 21, 2004 11:00 pm
Rimrock Opera Company sinks its teeth into one of literature's most complex and compelling characters when "Nosferatu" opens tonight.

Billed as a "dark and sensuous tale of obsessive love," the ROC production is the world premiere, inspired by the 1922 F.W. Murnau silent-film classic, "Nosferatu."

The company's fifth year features its most ambitious and star-studded production.

Besides the prestige of a world premiere, the ABT stage will feature some heavy-hitting opera voices, nationally known composer Alva Henderson and a libretto written by famed poet Dana Gioia. The latter says his vampire is evil, "with no morality, no pity, and he's immortal."

He is also "handsome, educated, polished and a sophisticate who charms the life out of his beautiful victim," Gioia says.

Sound irresistible? Gioia and Douglas Nagel, Rimrock Opera Company's artistic director and star, hope so.

When he shakes his metaphoric "Nosferatu" cape and his poet's leather jacket, Gioia's other and more pressing role is as president of the powerful Washington, D.C.-based National Endowment for the Arts. He and his California-based family are in Billings for the premiere and other events surrounding the celebration, including a reading Saturday night at Montana State University-Billings.

The show includes 35 Billings choristers and a 30-piece pit orchestra. Barbara Day Turner, a finalist for the Billings Symphony's conductor's job, returned to ROC to conduct, and Billings Symphony concertmaster Mary LaMonaca is concertmaster.

The "Nosferatu" tale has been interpreted in various venues as "Dracula," and Nagel describes his production as "a more artistic take on Bram Stoker's story."

"Our version focuses more on drama than on horror," Nagel says. "It's sexy, but that part is very subtle, so it is entirely suitable for families."

Top cast on stage

Nagel, singing the vampire role, is thrilled about the roster of impressive voices surrounding him on stage. These include Seattle tenor Robert McPherson, who sings the part of Eric, opposite Ellen, the vampire's victim.

Nagel first sang with McPherson at Opera San Jose. Since then, McPherson has performed major roles in Avignon, France; Genoa, Italy; and La Coruna, Spain. He sang the male lead to raves in "Romeo and Juliette" and will debut in Madrid next season as Constantino in Ramon Carnicer's "Elena and Constantino."

Other top talents include San Francisco opera star Susan Gundunas, portraying the leading lady, Ellen. Composer Henderson wrote the role specifically with Gundunas' versatile and expressive soprano voice.

Nagel also rattles off other "top, top talents" involved in the production, including opera stars Karen Carle of San Francisco, playing Ellen's older sister; Dennis Rupp of Burbank, Calif., as the trouble-maker Skuller; and Sandra Rubalcava, known to ROC audiences for her portrayal of Donna Anna in "Don Giovanni."

New York director Charles Maryan oversees the production. That's the crowning touch, Nagel thinks.

"How often do people get this kind of opportunity, to see this collaboration of the best in their fields on our own ABT stage?" Nagel asks. "It's fantastic."

Bite off a big budget

Nagel says the production is "by far ROC's most adventurous project - epic really - and a first on so many levels."

Its budget tops $200,000, more than twice that of earlier productions, but the production will break if the two performances are well-attended.

An "Opera Arias" fund-raiser earlier this month raised several thousand dollars to the cause, with the purchase of works sung by the "Nosferatu" stars. Some of the pieces went for several hundred dollars, and the range spanned favorites from "Rigoletto" to "The Barber of Seville."

And the ABT and School District 2 purchased the audience preview on Wednesday morning so a sold-out house of 1,400 high-school students previewed "Nosferatu."
Risky and expensive though a world premiere is, from the building of the first set to the interpretation to vocals without precedent, "I know we did the right thing," Nagel says. "It's been a marvelous, exciting experience for all involved, and I believe, for the community."
Opera to honor arts editor
JACI WEBB Of The Gazette Staff | Posted: Thursday, October 21, 2004 11:00 pm
Christene Meyers, longtime arts and entertainment editor of The Billings Gazette, will be honored Friday night at the world premiere of "Nosferatu" at the Alberta Bair Theater for her support and promotion of the arts.

Meyers, who is retiring from The Gazette at the end of the month, will be presented with a plaque by Dana Gioia, chairman of the National Endowment for the Arts, on behalf of the Rimrock Opera Company. Gioia will be in town Friday to participate in the Montana Arts Council meeting at the Yellowstone Art Museum and to introduce "Nosferatu" that night. Gioia, a poet, wrote the libretto for the opera, which was composed by Alva Henderson.

Lucinda Butler, president of the ROC board, said Meyers was instrumental in saving the Alberta Bair Theater and promoting the arts in Billings during her lengthy career.
"We want to honor and thank Christene for her enthusiastic support for the opera and for her support and promotion of the arts," Butler said.

Meyers has worked as a reporter and editor for The Billings Gazette since 1968, covering several news beats before helping the late Kathryn Wright launch the weekly entertainment section, Enjoy.

Meyers, who is married to William Jones, a painter and writer, was also honored this fall at Billings Studio Theatre. The theater dedicated the 2004-05 season to Meyers to thank her for her contributions to the arts in Billings, theater director Eric Hendricks said.
"She's helped us tremendously through the years," he said. "All the coverage we've gotten has made a huge difference in our ability, not just to maintain, but to flourish. Christene has done a lot for us and a lot for the other arts organizations."

BST held a reception for Meyers at the final show of "Losing Father's Body" on Oct. 2. Meyers and her late husband Bruce Meyers performed together in many musicals at the Fox Theater, Schwartzwald Dinner Theatre and Billings Studio Theatre. Meyers plays piano, and Bruce acted and sang.
<![if !supportLineBreakNewLine]>
<![endif]>
Review: Opera offers original take on old tale
CHRISTENE MEYERS Of The Gazette Staff | Posted: Friday, October 22, 2004 11:00 pm

At last, "Nosferatu" is indeed here.

A gifted group of singers ?no strangers to acting ?gave "Nosferatu" the polish and panache a fine opera needs at the world premiere Friday night.

Mayor Chuck Tooley graced the Alberta Bair Theater stage to proclaim "Nosferatu Day," and a glittering assemblage of celebrities and arts supporters saluted this haunting work by composer Alva Henderson and librettist Dana Gioia.

Gioia, acclaimed poet and head of the National Endowment for the Arts, appeared on stage with his colleague, the well-known composer Henderson, to brief the audience. Then the curtain rose on a new and original take on the handsome and polished fanged man who charms the life right out of his victims.

The production made a lasting impression on the packed ABT house.

Rimrock Opera Company's production delivers soaring melodies; harmonious duets and trios; arias to, well, die for; and poetry aimed straight for the heart.

With the support of a solid pit orchestra and a powerful chorus, the cast deftly and dramatically tells the ages-old tale: a man is trapped, tormented and controlled by his "undead" status; he yearns for a beautiful married woman; she, after much conflict and premonition, sacrifices herself to free Nosferatu from his misery and murder.

While the first act moves slowly as the audience anticipates the vampire's arrival, the payoff does come. Be patient and you will be rewarded.

The vampire motif is an ancient theme, perhaps dating back as far as ancient Greece and part of the western culture since its beginnings.

Gioia's and Henderson's savvy contemporary collaboration does justice to this great romantic myth. The music is hypnotizing, from the heroine's anguished arias, to the pulsing choral themes inspired by the text of "Dies Irae" that warn of doom and the day of judgment.

In the lead role of Count Orlock, later revealed to be Nosferatu, ROC artistic director Douglas Nagel enters with regal bearing. His sonorous, wide-ranging bass baritone voice gives life to Gioia's thoughtful poetry in lines such as "I am the image that darkens your glass/ the shadow that falls wherever you pass ?I am the bell that tolls out the hours/ I am the fire that warms and devours."

And his expressive eyes convey the angst of his character.

We're equally smitten by the heroine, Ellen Hunter. In this role, San Francisco soprano Susan Gundunas shows both heart and soul, displaying a gorgeous range, perfect pitch and expressive stage presence.

Both she and her pursuer hit their marks right on and their "surrender scene" near the end is breathtaking, with music and lyrics so moving as to bring a tear.

As Ellen's earnest husband, Eric, Robert McPherson contributes a lilting tenor, and baritone Jan Michael Kliewer as Dr. Harding offers sound support to the conflict implicit in the story ?the difficulty of knowing the world of the physical but being unaware of the metaphysical.

Karen Carle is just right as Ellen's concerned sister, Marthe. Her rich mezzo soprano voice is a perfect pairing with Gundunas.

Dennis Rupp as the count's rascally business associate Skuller has power and persuasion in his polished bass and sneaky tactics.

Chorus master Ed Harris has no lines but is a steady presence as the servant.

Truly, there's no weak link in this able assemblage of world-class voices.

New York director Charles Maryan directs the production with a sensitivity to the tension, conveying the vampire story as one we love to fear but fear to love. In stylish but never campy dressing of the stage, he also pays homage to the 1922 silent vampire film that inspired the Gioia-Henderson collaboration.

The neo-romantic Henderson score is enhanced by Rebecca Hoffman's elegant costume design to pay accurate tribute to the period of Wisborg in the mid-19th Century.
Dan Allers' set design is appropriately dark and moody, enriched by muted lighting. The set changes are for the most part fluid, taking us from a Baltic counting to the Hutters' parlor, to the ominous dark docks of a Hungarian village, the count's eerie castle and Ellen's fateful bedroom.

The parlor in Act I could use some invention and seems pale when compared to the other sets.

Maestra Barbara Day Turner's deft and steady hand in the pit keeps us and the singers and players on their toes.

The strings are superb, woodwinds and horns unerring, and as with the voices, there are instrumental weak links.

What better way to usher in autumn, the season of falling leaves, full moons and Halloween, than with "Nosferatu."

Throw on your dark cloak and don't miss this biting production.




CHRISTENE MEYERS Of The Gazette Staff | Posted: Saturday, October 23, 2004 11:00 pm


It was time to gild the lily, as poet Dana Gioia charmed 200 lovers of language at Cisel Hall at Montana State University-Billings with his award winning words Saturday night.

The head of the National Endowment for the Arts spun a colorful cloak of poems during a Billings visit to celebrate the world premiere of the opera "Nosferatu," for which he wrote the libretto. The work was greeted with cheers, bravos and a standing ovation Friday night at the Alberta Bair Theater.

In the time-honored tradition of troupers, Gioia agreed to a Writer's Voice request to read from his three books and was introduced by Voice director Corby Skinner.

The man who cares about words displayed his humor and intelligence at every turn, confiding that his "identity as a poet is becoming rather vague" in his mind, occupied as it is by the duties of a government post.

With expressive eyes and hands to enhance his silken voice, Gioia read, naturally, from "Nosferatu" as well as his books of poetry - "Daily Horoscope," "The Gods of Winter" and "Interrogations at Noon."

Invoking the muse of Alfred Lord Tennyson, W.H. Auden, Robert Frost and Donald Justice, Gioia showed himself to be a poet's poet. He makes brilliant use of all the tools of the elusive trade, employing rhyme, meter and metaphor to give meaning to life's great and small moments.

His reading began and ended with a short, provocative poem, "Unsaid," with its simple yet complex truth: "so much of what we live goes on inside."

The process of poetry, he believes, involves following an impulse to its end.
In "Flowers," with its elegant use of rhyme, the beauty of the bouquet is undercut by a young couple's confusion over its unknown sender. The flowers wilt and fade, but suspicion and mistrust blossom.

In "Words," a philosophical poem, the poet considers both the futility and necessity of writing about the ephemeral in nature.

In "Cruising With the Beach Boys," Gioia takes a trip down memory lane to the days of hot cars and cold romance. Here we see a contemplative and wistful guy who didn't get the girl, "the Cecil B. DeMille of my self-pity."

The evening's most moving poem was an elegy to a 4-month-old son who died of SIDS. In a Californian's adaptation of the Sicilian tradition of burying part of the umbilical cord under a tree, Gioia and his brothers plant the remains beneath a sequoia. The rainy-day act gives immortality to the dead child and confirms our return to the earth.

A mock elegy to Parisian surrealists and others of the avant garde, combines ironical asides with a Maurice Chevalier accent. It emerges as a clever spin on the daring antics of Picasso, Dali, Apollonaire and others of this remarkable assemblage.

A nature homage, "The Apple Orchard," has an old-fashioned power and again displays the writer's command of poetic technique. We smell the blossoms and feel their fleeting nature.

Gioia's reading of the vampire's nocturne from "Nosferatu" left the audience spellbound: "I am the hunger that you have denied, the ache of desire piercing your side."
It is obvious that Gioia is enjoying being a poet again - if only for a weekend. And, thankfully for all of us, his poet's passion and sensitive soul inform his day job in Washington.

An accomplished translator and versatile linguist, Gioia spends time beating the drum for Shakespeare in small towns and in general, for literacy, one of his pet NEA projects. He said that in 1982 nearly 57 percent of adult Americans read literature - novels, fiction, plays and poetry - on a regular basis. That figure has dropped alarmingly, to just over 46 percent, "a loss of 20 million potential readers," Gioia says.

But Gioia is hopeful. And with a national election around the corner, he makes a connection between literary reading and civic participation.

"People who read are people who are deeply concerned about staying informed, staying alert, staying alive," he said. "I mean alive in a spiritual and mental sense. They care about the world, take charge of their lives, are concerned about issues."

While television, video games, Internet activity and other passive trends increase, Gioia believes reading forces people to think. He wants to increase education, to "reconnect the experience of reading with pleasure and enlightenment."

He also wants to encourage reading as a shared activity, through book clubs and literary circles.

And he asks that Americans urge their newspapers to increase books and arts coverage, rather than cutting back in those important areas.

"The media barely recognizes the existence of literature and the other arts. Yet the media is one of the ways by which Americans know themselves," he said
.
©2000-2006 Rimrock Opera Company. All rights reserved